This is my simple recipe for natural fabric softener. Fabric softener as we know it – the commercial stuff that is – is really not good for us. It's not good for the environment either. It often contains some very questionable ingredients that are known to stick to clothing, irritate skin and aggravate allergies.
Companies (in Australia anyway) are not required to tell you what is in cleaning products, so we often won't see panels on packets of softener which makes it hard to make educated decisions when out shopping. It often takes a little searching on the internet to find comprehensive lists, and even then, it is the companies choice whether they publish them or not.
Here is an example of ingredients within one popular supermarket brand of softener. From what I can see, most softeners available are similar in their contents.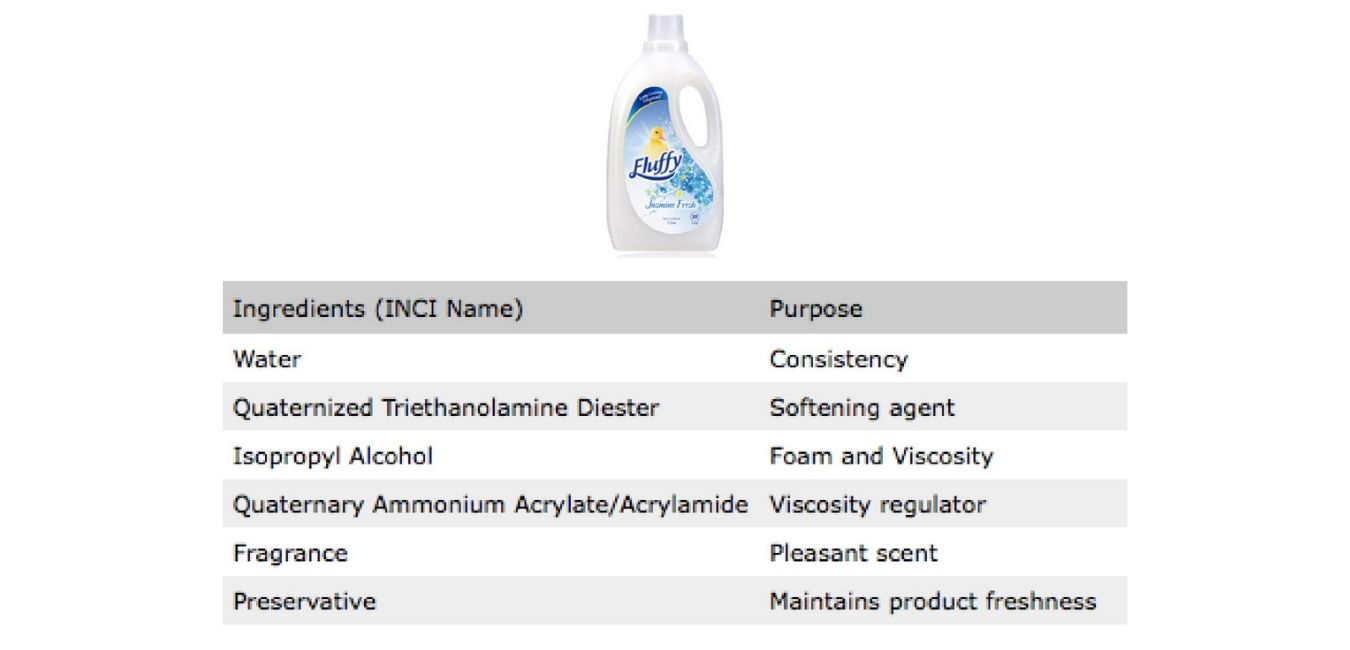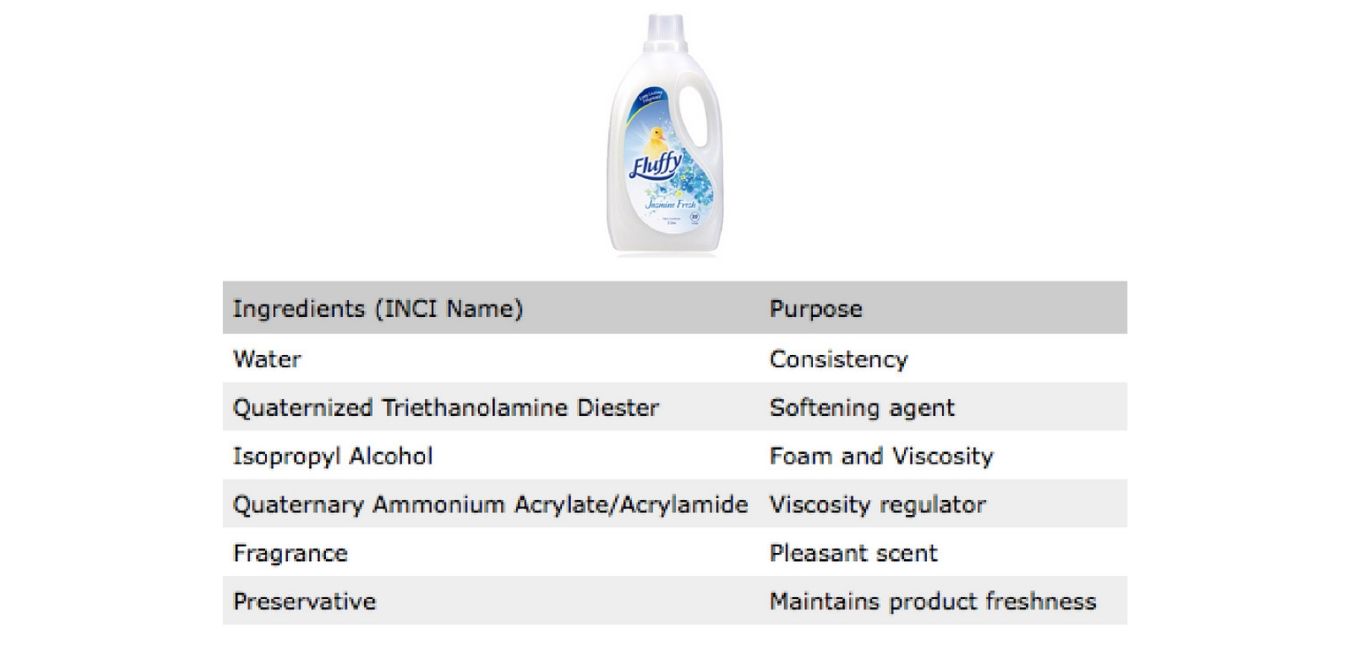 Here's a brief look into these ingredients:
Water
Any time you see water in a product, look for preservatives. Usually, not a good sign.
Quaternized Triethanolamine Diester
I can't find much reputable data on this but Triethanolamine is petroleum-derived and may cause contact dermatitis.
Isopropyl Alcohol
not much to worry about in a cleaning product but not something I would use on my skin.
Quaternary Ammonium Acrylate/Acrylamide
Quaternary ammonium compounds rate poorly with EWG (my go-to for chemical research and advice). Although the data covers a broad scope, there is mention of toxicity to aquatics and moderate concern for asthmatics.
Fragrance
A toxic minefield and my most hated ingredient, unless derived from essential oils! Watch out for this one. There is a list of hundreds of chemicals used for fragrance formulation, and companies don't have to tell you what they use – it's their trade secret. Fragrance is associated with allergies, skin irritation, asthma, headaches etc.
Preservative
Interesting that they don't tell you WHAT preservative. Some preservatives, such as Formaldehyde, are known to be carcinogenic to humans, others, salt, for example, is fine. So I'm dubious here.
You know how when you're at the supermarket, you can smell the softener aisle a mile away (if you've been living a lower-toxin lifestyle for a while now, you'll know what I mean!)? It really is something I like to avoid. I can even smell people's washing when I take my daily walk if they've used softener – that's how potent this stuff is! It sticks to your clothes, it coats your machine in slime making it hard to clean, and it's terrible for septic systems and our waterways in general.
Have I convinced you to make the switch to natural yet?
For a long time, I have been using straight vinegar as a natural fabric softener. And it works well, so if this recipe seems like a little too much effort for you, then stick with that. But this recipe for natural fabric softener, ooh-la-la, it really does make my laundry nice and soft!
Natural Fabric Softener
Makes: 1.1 lt | 37.2 fl oz Prep time: < 5 min.
Ingredients
½ cup | 140 g | 4.9 oz fine salt
1 cup | 250 ml | 8.5 fl oz hot water (see recipe notes)
3 cup | 750 ml | 25.4 fl oz white vinegar (look for naturally fermented)
2-3 drops of essential oils (per use)


My choice of essential oils…
My favourite essential oils in this recipe are lemon and eucalyptus, but don't be limited by my suggestions. Use oils that fit your budget, or those that you already have in your collection. Read here for more information.
Method
1. Add salt and hot water to a bowl and mix until salt has dissolved.
2. Add vinegar and stir until combined.
3. Transfer into container of choice.
To Use
Shake well, then pour approximately ½ cup of liquid and essential oils (if using) into the designated softener compartment of your washing machine.
Recipe Notes
Water should be distilled, purified or pre-boiled and cooled to extend shelf life.
If the salt doesn't fully dissolve, don't worry too much – it will dissolve over time.
If you're concerned about your washing machine then don't use this recipe. I personally have had no issues at all, after years of using vinegar in my washing machine, but it is ultimately up to you.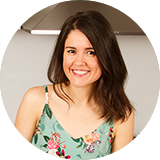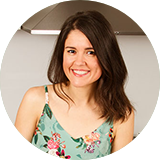 Krissy Ballinger
AUTHOR & ADVOCATE FOR NATURAL LIVING
Krissy wants to see a world where people make conscious choices that honour both humans and habitat. It is her mission to gently guide people towards this beautiful way of life. With a background in education and health promotion, she devotes her time to increasing awareness on common and avoidable toxins, as well as educating individuals on simple ways they can adjust their lifestyles to better serve themselves, and the planet. Natural DIY is Krissy's speciality, and she has sold over 50,000 copies of her recipe books, including her latest book, The Lifestyle Edit, the award-winning, Naturally Inspired - Simple DIY Recipes for Body Care and Cleaning, and her kids book, Make & Play - Natural DIY Recipes for Kids. She offers honest and gentle guidance, education and 100+ free natural DIY recipes on her website.