I've created a simple guide to cleaning your oven the non-toxic way, so you can avoid using commercial oven cleaners. Have you ever looked into the ingredients in some commercial oven cleaners? A few of the common and worst offenders, found to be detrimental to our health and the health of the environment include:
⚠️ Sodium Hydroxide
⚠️ Potassium Hydroxide
⚠️ Butoxyethanol
⚠️ Ethanolamine
⚠️ Fragrance
⚠️ Butane . . . and the list goes on.
It can be hard to even find complete ingredients listings on packaging (Australian law doesn't enforce it), or online.
I believe this needs to change, and I'd love for you to sign my petition.
I respect companies that are transparent and list all ingredients on packaging (even if sometimes there are a few less than desirable ones). It shows us they have nothing to hide, allowing consumers to make educated choices.
So, let's clean our ovens with a few simple ingredients and, wait for it… elbow grease!! Don't be lazy 😉
Steps to Clean Your Oven the Non-Toxic Way
Step 1 – Wait until you have used your oven and it is hot (or, you could heat it first but that seems like a waste of energy). 
Step 2 – Add about 1 litre of boiling hot water, 2 tablespoons of bicarb and one lemon (halved, squished and squeezed) into an ovenproof dish.
Step 3 – Place dish on top rack and shut the door for at least an hour. The steam will soften any build-up.
Step 4 – When it is all steamy, wipe down walls and door with a soft cloth, rinsing well between wipes in a bucket/sink of hot water and a tablespoon of castile soap.
Step 5 – You may need to use a scouring sponge (or 'steel-o') on the racks, roof and tray if you cook roasts and fatty meats often. If you find the racks and bottom tray need even more work, soak them in your laundry sink with HOT water, ½ cup of bicarb and ½ cup vinegar overnight, and try scrubbing again. Another option is to use my Cleaning Paste.
Step 6 – Make sure you wipe down your oven completely before use.
A little tip…
Stay on top of it rather than try to deal with months of build up!!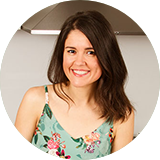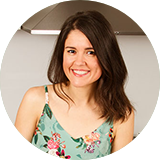 Krissy Ballinger
Author and Advocate for natural living
Krissy wants to see a world where people make conscious, educated decisions that honour both humans and habitat. With a background in education and health promotion, she devotes her time to passionately increase awareness on common and avoidable toxins, in everyday items like washing powder and deodorant, and to educate individuals on how they can easily reduce their daily exposure, through simple and realistic do-it-yourself ideas and recipes.
Krissy has sold over 40,000 copies of her natural DIY recipe books, including her award-winning book, Naturally Inspired - Simple DIY Recipes for Body Care and Cleaning, and her newly-released kids book, Make & Play - Natural DIY Recipes for Kids. She offers honest and gentle guidance, education and 100+ natural DIY recipes on her website.