By now, those of you who follow me will be well aware that cleaning companies are not required to openly disclose the ingredients they use. Those that do are doing so off their own bat (and even then it can be tricky to find complete lists rather than broad terms like 'preservative' and 'plant-based surfactants').
Of course, you can contact a company and ask for the Material Safety Data assessment, but even then, the information can be difficult to interpret, and I know many people, understandably, wouldn't have the time (or concern) to follow this through.
Products, intended to be used on the body are required to disclose a complete list of ingredients used at a concentration of over 1%. That's good, we can make educated decisions, yay.
But, I'd like to know what the difference between a body mist and window spray is? Yes, I know one is intended to clean windows, but you couldn't tell me that those who use it wear protective equipment and masks to ensure they're not inhaling/absorbing the product. Do you do this? I know I never did.
So, aren't we entitled to know what we're spraying in our homes considering that it will make contact with our bodies and land on surfaces we touch? I think so! If you agree with me, join thousands of other concerned humans and please sign my petition.
Rather than leave it to chance, why not make your own safe and non-toxic sprays?
This Citrus Cleaning Spray recipe is great for general surface cleaning, and although I know some people use it on windows, I find it sometimes leaves streaks. So, here is a ridiculously simple DIY spray alternative for windows. Getting a streak-free finish on glass is traditionally hard work, however, if you're using a good quality microfibre cleaning cloth and this window spray, you should have success.
Window Spray
Makes: 250 ml | 8.5 fl oz Prep time: < 5 min.
Ingredients
1/2  cup | 125 ml | 4.2 fl oz water
1/2  cup | 125 ml | 4.2 fl oz white vinegar 
20 drops of essential oils 


My choice of essential oils…
My favourite essential oils in this recipe are lemon and orange, but don't be limited by my suggestions. Use oils that fit your budget, or those that you already have in your collection. Read here for more information.
Method
1. Add all ingredients to a bowl and mix until combined.
2. Transfer into container of choice (I like to use a glass trigger spray bottle).
To Use
Spray directly onto windows as required. Wipe over with a damp microfibre cleaning cloth, and if necessary, polish with a clean, dry one. Newspaper also makes a fantastic polishing tool. Shake well prior to each use.
Recipe Notes
You might find it easier to add ingredients directly into your chosen container and shake to combine. Add essential oils first to lessen the risk of them overflowing when you secure your lid.
If your windows are particularly grubby, you might need to give them a light wash with water, before using this window spray.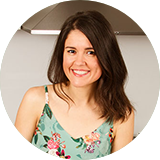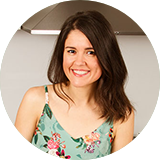 Krissy Ballinger
AUTHOR & ADVOCATE FOR NATURAL LIVING
Krissy wants to see a world where people make conscious choices that honour both humans and habitat. It is her mission to gently guide people towards this beautiful way of life. With a background in education and health promotion, she devotes her time to increasing awareness on common and avoidable toxins, as well as educating individuals on simple ways they can adjust their lifestyles to better serve themselves, and the planet. Natural DIY is Krissy's speciality, and she has sold over 40,000 copies of her recipe books, including her award-winning book, Naturally Inspired - Simple DIY Recipes for Body Care and Cleaning, and her kids book, Make & Play - Natural DIY Recipes for Kids. She offers honest and gentle guidance, education and 100+ natural DIY recipes on her website.