Unfortunately, we have been brainwashed by clever marketing to believe that we can't clean properly without big, fluffy, sudsy bubbles. You need to know that this is not the case at all.
Bubbles are almost always created by the addition of surfactants (substances which reduce the surface tension of a liquid in which it is dissolved such as SLS (sodium lauryl sulphate) and SLES (sodium laureth sulphate).  According to davidsuzuki.org, depending on manufacturing processes, Sodium Laureth Sulfate may be contaminated with measurable amounts of Ethylene Oxide (known human carcinogen) and 1,4-Dioxane (possible human carcinogen). So, rid your mind of all preconceived notions that bubbles are the only way to achieve clean dishes.
This dishwashing liquid is good if you're a squirt-it-on-a-sponge kind of dish-washer; it cuts through grime and doesn't leave behind any residue – just be sure to rinse in hot water.
If you're after a sink full, yes you can use this recipe, but you could also try Soapberry Master Stock. 
Sometimes I just use my Foaming Hand Wash recipe, on a sponge, or I drop a Dishwasher Tablet into a sink full on water. Both quite simply get the job done and are great in a pinch when you have nothing else on hand.
Initially, it does feel odd I must admit, not having a sink full of the foaming white stuff. But trust me, you'll get over it. We did!!
Basic Dishwashing Liquid
Makes: 250 ml | 8.5 fl oz Prep time: < 5 min.
Ingredients  
1 cup | 250 ml | 8.5 fl oz liquid castile soap
20 drops of essential oils


My choice of essential oils…
My favourite essential oils in this recipe are lemon, lime and grapefruit, but don't be limited by my suggestions. Use oils that fit your budget, or those that you already have in your collection. Read here for more information.
Method
1. Add all ingredients to a bowl and mix until combined.
2. Transfer into container of choice.
To Use
Add a good squirt of liquid onto a sponge and wash dishes as usual.
Recipe Notes
You might find it easier to add ingredients directly into your container.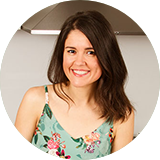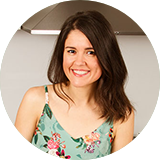 Krissy Ballinger
Author and Advocate for natural living
Krissy wants to see a world where people make conscious, educated decisions that honour both humans and habitat. With a background in education and health promotion, she devotes her time to passionately increase awareness on common and avoidable toxins, in everyday items like washing powder and deodorant, and to educate individuals on how they can easily reduce their daily exposure, through simple and realistic do-it-yourself ideas and recipes.
Krissy has sold over 40,000 copies of her natural DIY recipe books, including her award-winning book, Naturally Inspired - Simple DIY Recipes for Body Care and Cleaning, and her newly-released kids book, Make & Play - Natural DIY Recipes for Kids. She offers honest and gentle guidance, education and 100+ natural DIY recipes on her website.