Yes, you could just use white vinegar as a natural rinse aid replacement for your dishwasher – that's what I have been using for years. However, I thought I would experiment and see if I could find an option that gave me even better results. And, guess what? I did!!
Just three ingredients for this one, and it really does work wonders ?️?
Dishwasher RINSE AID
Makes: 120 g | 4.2 oz Prep Time: <5min.
Ingredients
40 g | 1.4 oz citric acid
40 g | 1.4 oz boiling water
40 g | 1.4 oz clear alcohol
10 drops of essential oils (optional)


My choice of essential oils…
My favourite essential oil in this recipe is lemon, but don't be limited by my suggestions. Use oils that fit your budget, or those that you already have in your collection. Read here for more information.
Method
1. Add citric acid and boiling water to a glass bowl and mix until dissolved.
2. Add remaining ingredients and stir, then allow to cool.
To Use
Fill rinse aid compartment with mixture, as required.
Recipe Notes
I have worked out my compartment size is about 120 g/ml but you may have a little left over. If so, store it in a glass jar (I keep any extra in a dark cupboard, but the fridge will help extend shelf life further).
Use the cheapest (plain) vodka you can find.
I trust that you will make the decision on whether this formula is suitable for your dishwasher. I cannot take any responsibility if your dishwasher doesn't agree with this recipe.
Find the dishwasher tablet recipe here.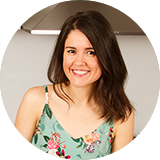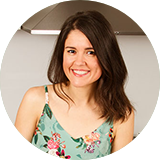 Krissy Ballinger
AUTHOR & ADVOCATE FOR NATURAL LIVING
Krissy wants to see a world where people make conscious choices that honour both humans and habitat. It is her mission to gently guide people towards this beautiful way of life. With a background in education and health promotion, she devotes her time to increasing awareness on common and avoidable toxins, as well as educating individuals on simple ways they can adjust their lifestyles to better serve themselves, and the planet. Natural DIY is Krissy's speciality, and she has sold over 50,000 copies of her recipe books, including her latest book, The Lifestyle Edit, the award-winning, Naturally Inspired - Simple DIY Recipes for Body Care and Cleaning, and her kids book, Make & Play - Natural DIY Recipes for Kids. She offers honest and gentle guidance, education and 100+ free natural DIY recipes on her website.