I came across an article this week that really highlights the need for us to pay attention and advocate for our own health. Highly toxic substances detected in a seemingly innocent pair of Amazon-bought earrings.
Lead Safe Mama, aka Tamara Rubin, is an American based award-winning independent advocate for consumer goods safety and childhood lead-poisoning prevention. She is also a mother of lead-poisoned children. She began testing consumer goods for toxicants in 2009, and was the parent-advocate responsible for finding lead in the popular fidget spinner toys in 2017. Read more about this incredible woman here.
Tamara recently purchased 'platinum plated, 925 sterling silver' earrings from Amazon. When she received them, naturally she tested them, and this is what she found:
〉The earrings are 100% devoid of silver and platinum.
〉Despite claims that they are free of lead and cadmium, trace levels were detected.
〉The listing stated the earrings are free from nickel, yet every single test on each component of the earrings tested positive for nickel.
〉Virtually every reading showed that the metal components of the earrings were positive for arsenic and mercury at varying levels.
Isn't that just crazy, not to mention deceptive and dangerous?
I totally get it, it seems like 'everything will kill you these days'. That thought can feel very real and very overwhelming each and every time we receive new information like this. I think we could all do with the reminder that we can only do what we can do. We always have a choice: let overwhelm creep in, or feel educated and empowered.

I choose to feel educated and empowered! I choose to pay attention to, and action, that which I am ready for. Who's with me?
And while I'm giving advice, please don't compare your journey with anyone else's. Don't compare yourself with me, your neighbours, your friends. You do you.
So what if 'everyone else' is using homemade washing powder and softener, eating organic apples, meditating for 30 minutes everyday, but you just have no interest or no capacity to do the same, even though you want to 'be natural'. There isn't a simple rule or direction for that; it's so complex and so dependant on your circumstances (physically, but also mentally and emotionally).
Rather than look at this journey as a linear one with a destination, how about we just try to open our eyes and make educated decisions with the health of ourselves and our families, humankind, and the planet, at the forefront; and, feel the freedom to act within our own limitations; and be happy with what we can achieve? Take the pressure right off!!
I'm in the business of educating you on a range of concepts and ideas that will raise awareness on the broad topic of natural living. Take it on board, practice and preach it if you want, or don't. Do it all the time, some of the time, every now and then, or not at all. It's always up to you. I bring information like this to your attention simply to encourage you to be a conscious consumer.
Once you're informed you can make whatever decision you please but let's ease up on the blind faith routine – there are enough examples from history that prove everything is worthy of our attention.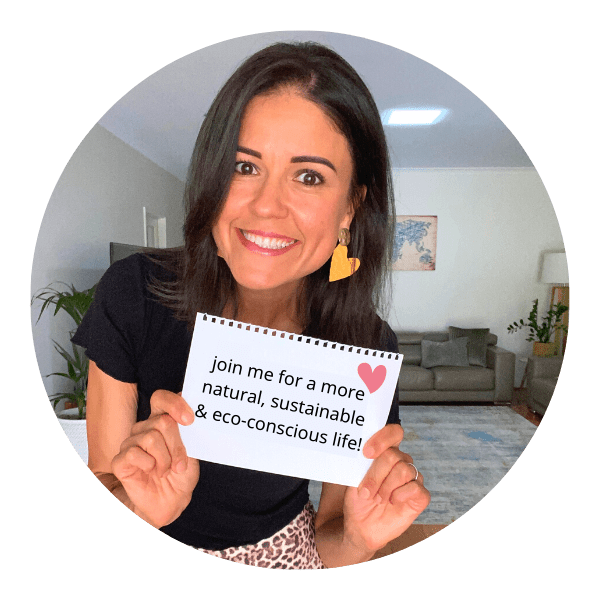 Krissy Ballinger
AUTHOR & ADVOCATE FOR NATURAL LIVING
Krissy wants to see a world where people make conscious choices that honour both humans and habitat. It is her mission to gently guide people towards this beautiful way of life. With a background in education and health promotion, she devotes her time to increasing awareness on common and avoidable toxins, as well as educating individuals on simple ways they can adjust their lifestyles to better serve themselves, and the planet. Natural DIY is Krissy's speciality, and she has sold over 80,000 copies of her recipe books, including her latest book, The Lifestyle Edit, the award-winning, Naturally Inspired - Simple DIY Recipes for Body Care and Cleaning, and her kids book, Make & Play - Natural DIY Recipes for Kids.