This week there has been some big wins on the sustainability front with Western Australia leading the way with its plans to ban single-use plastic items. Bravo! If you'd like to see what your state has planned, check out this graph from the Australian Marine Conservation Society.
As for WA: "It will be done in two phases, with items such as plastic plates, bowls, cups, cutlery, stirrers, straws, thick plastic bags, polystyrene food containers and helium balloon releases banned from December 31 this year. Takeaway coffee cups that contain plastic, plastic produce bags, cotton buds with plastic shafts, polystyrene packaging, microbeads and oxo-degradable plastics will be banned from the end of next year."
As wonderful as this news is for WA (hopefully the other states jump on board quick-smart!), I would love to encourage you to take some action now, rather than wait for the government to enforce it.
Here are a few of the easiest sustainable swaps you can make to reduce your waste
Coffee cups – There are so many options available. I prefer the glass ones (and love these Joco cups), although metal is more practical if you're a little rough/clumsy with your belongings (also handy if you have small children). While the 'bio' type takeaway cups are better in that they're typically plant-based, most need to land in an industrial compost facility – and I see them get thrown into regular waste bins all the time.

It's easy to be caught out without a reusable cup so make a habit of always popping your washed cup in your car/handbag/by your front door so it's not forgotten. And of course, if you're out and about without one and you really want a coffee, just dine in (or deny yourself the caffeine hit – you'll definitely remember your cup for next time, trust me!)
Cutlery – There are cutlery kits available to buy that come with cute tins to keep them safe and clean. But there is no need to make an extra investment, you could just nab some from your kitchen drawer and throw them into an old sock or small Tupperware-style container. Easy.
Produce bags– If you don't want to buy reusable ones (these are made from recycled plastic too, closing the loop which is the goal!), you could choose to either make your own from old t-shirts if you're handy or just cut the lower leg from old stockings. Or… simply use none! I often chase my apples around my trolley when I've forgotten mine. Not a big deal at all!
Napkins and straws – The straws are available to buy, almost everywhere, often for a gold coin donation. I've seen them at so many cafes, and even at pubs and restaurants etc. As for napkins, you could use a handkerchief (one you have or you could make one if you're handy with a sewing machine), or just use an old face washer – why not!

It only takes a little conscious thought and effort, plus some habit-forming (which won't take long) before it'll feel wrong to tear off a plastic bag or accept a paper/plastic cup. Who's already made sustainable swaps? And who's ready to commit to one (or all!) of these swaps?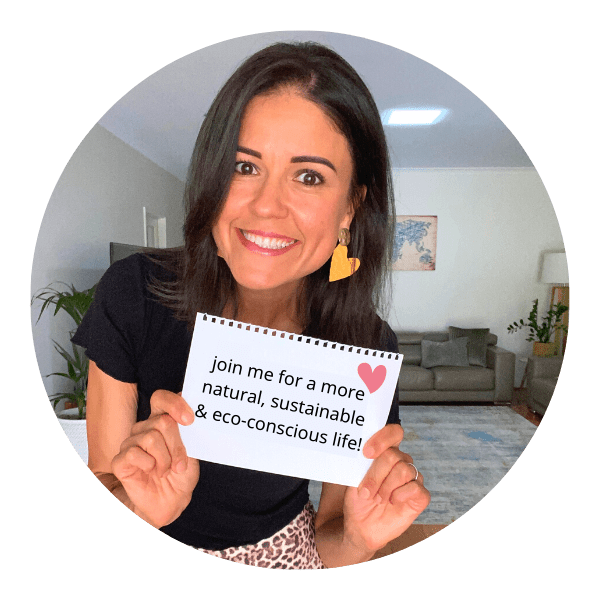 Krissy Ballinger
AUTHOR & ADVOCATE FOR NATURAL LIVING
Krissy wants to see a world where people make conscious choices that honour both humans and habitat. It is her mission to gently guide people towards this beautiful way of life. With a background in education and health promotion, she devotes her time to increasing awareness on common and avoidable toxins, as well as educating individuals on simple ways they can adjust their lifestyles to better serve themselves, and the planet. Natural DIY is Krissy's speciality, and she has sold over 80,000 copies of her recipe books, including her latest book, The Lifestyle Edit, the award-winning, Naturally Inspired - Simple DIY Recipes for Body Care and Cleaning, and her kids book, Make & Play - Natural DIY Recipes for Kids.