If you're looking for a luxurious, yet ridiculously simple, foot scrub, then this Epsom Salt Foot Scrub is for you. Our feet are awesome, they do so much hard work every day, yet they often get seriously neglected – you know the old cliché!
Epsom salt will exfoliate beautifully and is renowned for its soothing and detoxing properties. Bicarb is antifungal, antiseptic and gently exfoliating, and excellent at eliminating odour – perfect for feet!
So, go on, treat yourself and your tootsies to this divine scrub (or better still, get someone else to do it for you!)?
Epsom Salt Foot Scrub
Makes: 230 g | 8.1 oz Prep time: < 5 min.
Ingredients 
200 g | 7 oz epsom salt
20 g | 0.7 oz sodium bicarbonate
10 g | 0.4 oz coconut oil (the type that solidifies)
5-10 drops of essential oils
1/2 tsp green spirulina (optional if you want to colour it)


My choice of essential oils…
My favourite essential oil in this recipe is peppermint, but don't be limited by my suggestions. Use oils that fit your budget, or those that you already have in your collection. Read here for more information.
Method
1. Add all ingredients to a bowl and mix until combined.
2. Transfer into container of choice.
To Use
Massage over feet and rinse with warm water. Best used after a good, long foot soak.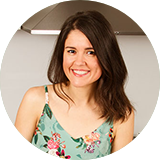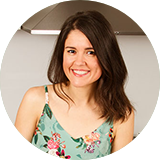 Krissy Ballinger
Author and Advocate for natural living
Krissy wants to see a world where people make conscious, educated decisions that honour both humans and habitat. With a background in education and health promotion, she devotes her time to passionately increase awareness on common and avoidable toxins, in everyday items like washing powder and deodorant, and to educate individuals on how they can easily reduce their daily exposure, through simple and realistic do-it-yourself ideas and recipes.
Krissy has sold over 40,000 copies of her natural DIY recipe books, including her award-winning book, Naturally Inspired - Simple DIY Recipes for Body Care and Cleaning, and her newly-released kids book, Make & Play - Natural DIY Recipes for Kids. She offers honest and gentle guidance, education and 100+ natural DIY recipes on her website.