So you're all inspired and you've made your own natural dishwasher tablets – happy days! It is so empowering to take household cleaning into your own hands and know that you're not only saving money, but also the environment.
Depending on where you're located, you might have varied success using my natural dishwasher tablets recipe. You might love it from the get-go, you might not. You might find that results vary. If your glasses are cloudy, or spotty, or your dishes aren't washing properly, then have a read of the following troubleshooting tips. They may not be the perfect fix for you, but they may improve the results you're having and encourage you to keep investing your energy into DIY cleaning.
Please remember that occasionally you may need to work a little harder with natural alternatives. As a society, we have been spoiled with convenience, and have become somewhat (dare I say it?) lazy. Yes, we're all busy, but if a few extra minutes here and there means we improve our health, and that of the world we're borrowing from our grandchildren, isn't it worth the trouble? I think it is.
〉Scrape excess food from your dishes before stacking in your dishwasher. Even commercial powders struggle with excess food scraps.
〉Soak plates that have cheese or sauces burned onto them.
〉Rinse tea cups before stacking.
〉Stack dishes properly. Nothing is going to get between nested bowls or spoons and clean them properly.
〉Get plastics out as soon as the cycle has ended if you can, or hand wash them. You may eventually move away from plastic altogether!
〉Hand wash glasses. Without industrial ingredients that leave dishes dry and streak-free, it is hard to avoid spots on glasses.
〉Opening your dishwasher as soon as the cycle is finished and shaking the excess water off dishes may help.
〉Don't leave dirty dishes in your dishwasher for days before washing. The toughest of dishwasher tablets would struggle with that!
〉Keep your dishwasher clean. I recommend doing so every fortnight at least. We certainly can't expect a dirty appliance to do a good job when cleaning, can we?
1. Dismantle and clean the filter with a scrubbing brush in hot soapy water.
2. Clean the spray arms – this will require you to unscrew it and unclog each hole with a piece of wire, then secure it back into position
3. Wipe around all crevices and seals with a wet microfibre cleaning cloth.
4. Place 1 cup of white vinegar in a glass jug on the top rack, and add ½ cup of sodium bicarbonate (bicarb) to the floor of the dishwasher, then run a short but hot cycle.
〉Try adding an extra tablespoon of citric acid to each load (in a ramekin on the very top shelf), as well as a tablet. Add a few drops of lemon essential oil if you have it.
〉Leave out the washing soda and replace with equal parts borax and citric acid. If this mixture doesn't set properly, just use 1-2 tablespoons per load.
〉Try using two natural dishwasher tablets – one in the main compartment and one on the floor of the dishwasher (or in the pre-wash compartment if your dishwasher has one).
〉Use a rinse aid (see notes below).
Dishwashers work to dry dishes, not with hot air, but with hot water. Rinse aid is made up mainly of surfactants that reduce the surface tension of water, helping to create sheets of water which roll off dishes and prevent droplets from pooling. This speeds up the drying process and also helps calcium and other minerals to bind to water and be carried out through the drain, rather than settle on your dishes. All of this gives you sparkly dishes.
The bad news? It is expensive – that's one negative point. The worst news though, is that commercial rinse aids typically contain many questionable chemicals, some of which are highly toxic to humans, and aquatic life. Have you ever seen a clear rinse aid? Usually, it is fluorescent blue or a bright green. I have always wondered why this is necessary?? Small amounts of these chemicals are deposited on our dishes and the rest flows down the drain and into the environment. That is NOT ok.
A natural rinse aid – Vinegar. White. Straight-up. A tip when using vinegar, however, is to place it in a ramekin on the top shelf of your dishwasher and refresh with each load. By filling your rinse-aid compartment with vinegar, you may risk damaging the rubber components of your appliance (although I've done it for years with no issues, and an appliance serviceman with 20 years experience has told me vinegar is fine in the rinse-aid compartment, so it's your call).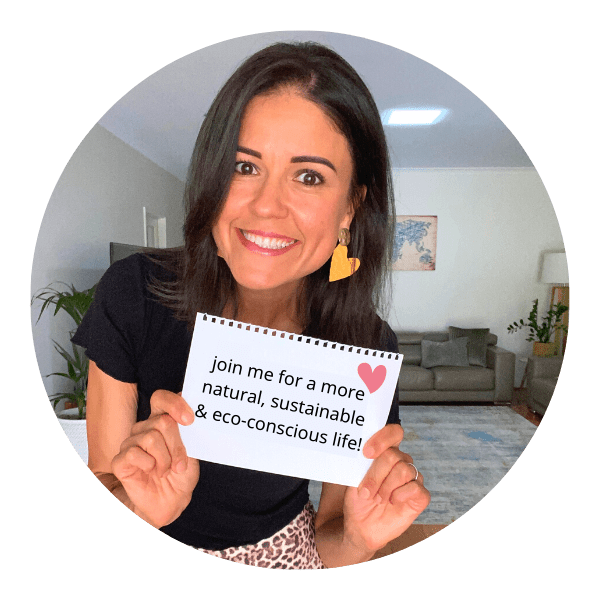 Krissy Ballinger
AUTHOR & ADVOCATE FOR NATURAL LIVING
Krissy wants to see a world where people make conscious choices that honour both humans and habitat. It is her mission to gently guide people towards this beautiful way of life. With a background in education and health promotion, she devotes her time to increasing awareness on common and avoidable toxins, as well as educating individuals on simple ways they can adjust their lifestyles to better serve themselves, and the planet. Natural DIY is Krissy's speciality, and she has sold over 50,000 copies of her recipe books, including her latest book, The Lifestyle Edit, the award-winning, Naturally Inspired - Simple DIY Recipes for Body Care and Cleaning, and her kids book, Make & Play - Natural DIY Recipes for Kids.