*March 16, 2020* In light of the current virus sweeping the world, I strongly suggest skipping the DIY sanitisers. Aim to thoroughly wash your hands as much as possible, and don't touch your face, in order to minimise risk. If you absolutely must use sanitiser, opt for one that is alcohol-based, as per the World Health Organisation's advice.
We live in a world obsessed with killing germs. I know this so well because I used to be one of 'those' people. Not any more though, and we have never been healthier!
Antibiotic resistance is a real problem and the overuse of antibacterial products is leaving us more susceptible to the germs, and it's contributing to the creation of superbugs. Three of the biggest offenders in commercial hand sanitisers are Benzalkonium Chloride (derived from petroleum and a known irritant), Triclosan (derived from petroleum and linked to skin, eye and lung irritation; also an environmental toxin) and fragrance (nasty, nasty stuff made from a list of up to 3,000 synthetic chemicals – steer clear).
This hand sanitising gel recipe is nourishing for your hands and contains some powerful essential oils which are highly antibacterial and antimicrobial. Does this gel kill 99.99% of bacteria? I don't know, probably not. But it is enough to give me peace of mind when I'm out and about with the kids and we don't have access to handwashing facilities.
Sanitising Gel
Makes: 50 g | 1.8 oz Prep time: < 5 min.
Ingredients
45 g | 1.6 oz aloe vera gel
1 tsp witch hazel
20-25 drops of essential oils


My choice of essential oils…
My favourite essential oils in this recipe are tea tree, thyme and cinnamon, but don't be limited by my suggestions. Use oils that fit your budget, or those that you already have in your collection. Read here for more information.
Method
1. Add all ingredients to a bowl and mix until combined.
2. Transfer into container of choice (a silicone squeeze-style tube with flip top or glass bottle with dropper top are good options).
To Use
Squeeze a small amount onto hands, rub and shake to dry. Shake well prior to each use.
Recipe Notes
You might find it easier to add ingredients directly into your chosen container and shake to combine. Add essential oils first to lessen the risk of them overflowing when you secure your lid.
A tiny bit goes a long way so don't squirt too much or it will take ages to dry and you'll be a slippery mess.
To pour the gel into the small opening of a silicone tube, place a snap lock bag (or piping bag) into a glass, folding edge over the rim. Use a silicone spatula to scrape all the gel in. Wash and reuse your plastic bag or 'redcycle' it.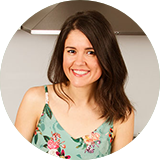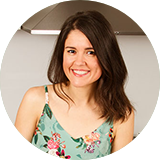 Krissy Ballinger
AUTHOR & ADVOCATE FOR NATURAL LIVING
Krissy wants to see a world where people make conscious choices that honour both humans and habitat. It is her mission to gently guide people towards this beautiful way of life. With a background in education and health promotion, she devotes her time to increasing awareness on common and avoidable toxins, as well as educating individuals on simple ways they can adjust their lifestyles to better serve themselves, and the planet. Natural DIY is Krissy's speciality, and she has sold over 50,000 copies of her recipe books, including her latest book, The Lifestyle Edit, the award-winning, Naturally Inspired - Simple DIY Recipes for Body Care and Cleaning, and her kids book, Make & Play - Natural DIY Recipes for Kids. She offers honest and gentle guidance, education and 100+ free natural DIY recipes on her website.