Commercial hand washes that contain antibacterial agents are toxic. Triclosan is one of those agents. According to the Environmental Working Group, triclosan is linked to liver and inhalation toxicity, and low levels may disrupt thyroid function. Wastewater treatment does not remove all of the chemical, which means it ends up in our lakes, rivers and water sources. That's especially unfortunate since triclosan is very toxic to aquatic life. Triclosan has been in the news recently and big Australian manufacturers will be removing it from their antibacterial hand washes by the end of 2017.
Here's a random fact for you:
Shopping receipts are covered in BPA, and when you use hand sanitisers (many containing triclosan), then handle receipts, you increase your body's ability to absorb this toxic chemical. Crazy!
This foaming hand wash contains a handful of ingredients. It is deliciously foamy and stupidly simple to make. So go on, JUST DO IT!!
Foaming Hand Wash 
Makes: 200 g | 7.1 oz Prep time: < 5 min
Ingredients  
65 g | 2.3 oz liquid castile soap
15-20 drops of essential oils
135 g | 4.8 oz water (see recipe notes)


My choice of essential oils…
My favourite essential oils in this recipe are lemon, tea tree and clove, but don't be limited by my suggestions. Use oils that fit your budget, or those that you already have in your collection. Read here for more information.
Special container required…
Foaming Pump Bottle
Method
1. Add castile soap and essential oils to a bowl and mix until combined.
2. Wait a few minutes (this gives the essential oils time to disperse within the castile soap), add water and mix until combined.
3. Transfer into foaming pump bottle.
To Use
Massage 1-2 pumps of foam over hands. Rinse with warm water.
Recipe Notes
Water should be distilled, purified or pre-boiled and cooled to extend shelf life.
You might find it easier to add ingredients directly into your soap dispenser (a foaming pump bottle must be used for this recipe).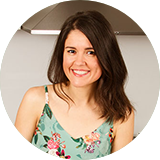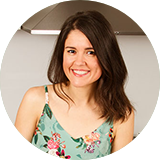 Krissy Ballinger
Author and Advocate for natural living
Krissy wants to see a world where people make conscious, educated decisions that honour both humans and habitat. With a background in education and health promotion, she devotes her time to passionately increase awareness on common and avoidable toxins, in everyday items like washing powder and deodorant, and to educate individuals on how they can easily reduce their daily exposure, through simple and realistic do-it-yourself ideas and recipes.
Krissy has sold over 40,000 copies of her natural DIY recipe books, including her award-winning book, Naturally Inspired - Simple DIY Recipes for Body Care and Cleaning, and her newly-released kids book, Make & Play - Natural DIY Recipes for Kids. She offers honest and gentle guidance, education and 100+ natural DIY recipes on her website.