This Foaming Body Wash recipe was born after I tried a popular mainstream brand of shower wash that makes 'natural' claims. It feels and smells lovely, but has a price tag of about $8 per bottle and contains quite a few ingredients, some of which I am suspicious of:
PEGs, for example, enhance the penetration effect of a cosmetic, may contain impurities, and should not be used on damaged skin.
Phenoxyethanol is irritating to the skin and "has shown effects on sensory organs even at low doses, and brain and nervous systems at moderate doses in animals, and causes cell mutation" and is another ingredient I prefer to avoid.
I believe simplicity is best when our bodies are concerned, especially when new research is emerging all of the time on chemicals 'they' once thought was safe. A perfect example is triclosan in antibacterial hand washes and the recent news that big Australian manufacturers will be removing it from their products by the end of 2017. Remember to make your own decisions and do your own research though; your body, your choice.
So, back to the recipe… A variation on my standard foaming wash, it's easy to change up the essential oils to suit your intended purpose or mood… So simple!
Foaming Body Wash
Makes: 200 g | 7.1 oz Prep time: < 5 min.
Ingredients
65 g | 2.3 oz liquid castile soap
15-20 drops of essential oils
135 g | 4.8 oz water (see recipe notes)


My choice of essential oils…
My favourite essential oils in this recipe are peppermint and orange, but don't be limited by my suggestions. Use oils that fit your budget, or those that you already have in your collection. Read here for more information.
Special container required…
Foaming Pump Bottle
Method
1. Add castile soap and essential oils to a bowl and mix until combined.
2. Wait a few minutes (this gives the essential oils time to disperse within the castile soap), add water and mix until combined.
3. Transfer into foaming pump bottle.
To Use
Massage 1-2 pumps of foam over body. Rinse with warm water.
Recipe Notes
Water should be distilled, purified or pre-boiled and cooled to extend shelf life.
You might find it easier to add ingredients directly into your soap dispenser (a foaming pump bottle must be used for this recipe).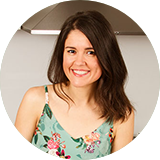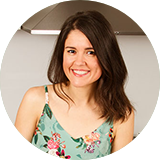 Krissy Ballinger
AUTHOR & ADVOCATE FOR NATURAL LIVING
Krissy wants to see a world where people make conscious choices that honour both humans and habitat. It is her mission to gently guide people towards this beautiful way of life. With a background in education and health promotion, she devotes her time to increasing awareness on common and avoidable toxins, as well as educating individuals on simple ways they can adjust their lifestyles to better serve themselves, and the planet. Natural DIY is Krissy's speciality, and she has sold over 40,000 copies of her recipe books, including her award-winning book, Naturally Inspired - Simple DIY Recipes for Body Care and Cleaning, and her kids book, Make & Play - Natural DIY Recipes for Kids. She offers honest and gentle guidance, education and 100+ natural DIY recipes on her website.