This recipe/concept/practice of Gua Sha isn't new, I didn't invent it. It has actually been around for a lonnnnnnng time, but I don't think it gets the airplay it deserves so I'm going to bring awareness to it!
Skin exfoliation, and purification, with sodium bicarbonate and vodka, is what I am talking about.
Gua Sha (Guasha – I've seen it spelled both ways), historically used in ancient Chinese medicine, involved using a tool to scrape the skin, promoting wellness by cleansing the skin of unwanted toxins, bacteria, yeast, fungus etc. The way I understand it, is that modern cultures have replaced the Gua Sha tool (and painful practice – seriously, it leaves skin red and bruised) with a simple mix of bicarb and vodka. Sounds easy enough, right?
So, if you haven't given it a go yet, you're missing out. The squeaky clean feel you get afterwards really is somethin' else and according to Tyler Tolman, it cleanses the skin to such a level that it will help you to tan without burning, and will keep your skin looking fresh and healthy.
I must add that, in my opinion, this is something you might not want to do more than once a week. I'm not a big fan of alcohol in skin care and find this practice to be quite drying. My concern is that doing this daily, as some suggest, would strip the skin of essential fats and bacteria. It's also important to moisturise afterwards, either with olive or coconut oil, or with something like my Whipped Body Cream or Sunscreen.
Skin Scrub With Bicarb & Vodka
Makes: enough for single use Prep time: < 5
Ingredients
200 g | 7 oz sodium bicarbonate
65 g | 2.3 oz vodka (triple distilled is best)
5 drops of essential oils


My choice of essential oils…
My favourite essential oils in this recipe are lavender and lemon, but don't be limited by my suggestions. Use oils that fit your budget, or those that you already have in your collection. Read here for more information.
Method
Add all of the ingredients to a small bowl, or jar, and mix until a putty-like paste forms.
To Use
Jump in the shower and wet your body. Turn the water off (purely to save that precious resource) and firmly massage the mixture over your body, starting with your feet and working your way up to your neck (face is best avoided, or very gently massaged). Thoroughly rinse the mixture off, and follow with a moisturiser (olive or coconut oil will do the job).
Recipe Notes
You could totally double or triple this mixture and store it for future use.
If you find the mix to be too thick, add a touch more vodka.
You can leave the essential oils out of this one if you prefer.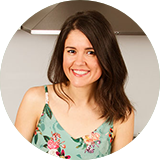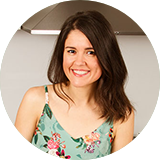 Krissy Ballinger
AUTHOR & ADVOCATE FOR NATURAL LIVING
Krissy wants to see a world where people make conscious choices that honour both humans and habitat. It is her mission to gently guide people towards this beautiful way of life. With a background in education and health promotion, she devotes her time to increasing awareness on common and avoidable toxins, as well as educating individuals on simple ways they can adjust their lifestyles to better serve themselves, and the planet. Natural DIY is Krissy's speciality, and she has sold over 50,000 copies of her recipe books, including her latest book, The Lifestyle Edit, the award-winning, Naturally Inspired - Simple DIY Recipes for Body Care and Cleaning, and her kids book, Make & Play - Natural DIY Recipes for Kids. She offers honest and gentle guidance, education and 100+ free natural DIY recipes on her website.