Don't waste your money on commercial make-up remover. Not when an ingredient as simple as coconut or olive oil can do the job while simultaneously nourishing the delicate skin on your face.
If you want to go that step further and have some lovely make-up remover made up and on hand, then you must try this recipe. A few simple ingredients and less than 2 minutes of your time is all that is required!
You'll notice I have INIKA make-up in the background… Organic, beautiful, lasting. Three things I am now very fond of when it comes to painting my face (not that I do it often!!). Oh, and they're Aussies, YAY!! Adorn is another brand I'm loving!
MAKE UP REMOVER
Makes: 85 g | 3 oz  Prep time: < 5 min.
Ingredients
1 tsp liquid castile soap
5 drops of essential oils
1 tbsp coconut oil (the type that solidifies)
¼ cup hot water (see recipe notes)


My choice of essential oils…
My favourite essential oils in this recipe are frankincense, geranium and lavender, but don't be limited by my suggestions. Use oils that fit your budget, or those that you already have in your collection. Read here for more information.
Method
1. Add castile soap and essential oils to a bowl and swirl gently to combine.
2. Wait a few minutes (this gives the essential oils time to disperse within the castile soap).
3. Add coconut oil and hot water and mix until oil has dissolved and mixture is combined.
4. Transfer into container of choice.
To Use
Dip cotton wool or reusable cloth pad into jar and gently wipe over face and neck to remove make-up. You may need to repeat this step a few times. Since oil and water don't mix, you'll need to shake well prior to each use.
Recipe Notes
Water should be distilled, purified or pre-boiled and cooled to extend shelf life.
To make this recipe even easier to use, add mixture to a spray bottle and spray your cotton wool/reusable cloth pad.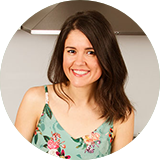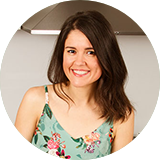 Krissy Ballinger
AUTHOR & ADVOCATE FOR NATURAL LIVING
Krissy wants to see a world where people make conscious choices that honour both humans and habitat. It is her mission to gently guide people towards this beautiful way of life. With a background in education and health promotion, she devotes her time to increasing awareness on common and avoidable toxins, as well as educating individuals on simple ways they can adjust their lifestyles to better serve themselves, and the planet. Natural DIY is Krissy's speciality, and she has sold over 50,000 copies of her recipe books, including her latest book, The Lifestyle Edit, the award-winning, Naturally Inspired - Simple DIY Recipes for Body Care and Cleaning, and her kids book, Make & Play - Natural DIY Recipes for Kids. She offers honest and gentle guidance, education and 100+ free natural DIY recipes on her website.