I love the convenience of these Solid Moisturising Bars when I am travelling and don't want to run the risk of my beautiful DIY butters and balms liquefying in the car. These bars are deeply moisturising for dry skin. They also make gorgeous gifts; you can make them weeks in advance, so there's no excuse not to get busy in the kitchen and stock your gift cupboard. 
I've made a quick video to show you just how easy they are to make. Keep scrolling down!
The high ratio of beeswax means that the mixture sets quite quickly, so don't leave this one in your bowl too long before filling your moulds. Also, note that you can sub the beeswax for candelilla wax (handy to know if you're a vegan) – just halve the quantity.
SOLID MOISTURISING BARS
Makes: 250 g | 8.8 oz  Prep time: < 10 min (allow approx. 60 mins to set).
Ingredients
100 g | 3.5 oz shea butter
100 g | 3.5 oz carrier oil
50 g | 1.8 oz beeswax
40 drops of essential oils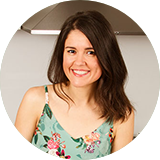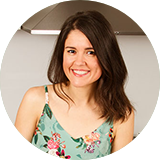 Krissy Ballinger
Author and Advocate for natural living
Krissy wants to see a world where people make conscious, educated decisions that honour both humans and habitat. With a background in education and health promotion, she devotes her time to passionately increase awareness on common and avoidable toxins, in everyday items like washing powder and deodorant, and to educate individuals on how they can easily reduce their daily exposure, through simple and realistic do-it-yourself ideas and recipes.
Krissy has sold over 40,000 copies of her natural DIY recipe books, including her award-winning book, Naturally Inspired - Simple DIY Recipes for Body Care and Cleaning, and her newly-released kids book, Make & Play - Natural DIY Recipes for Kids. She offers honest and gentle guidance, education and 100+ natural DIY recipes on her website.