My washing powder works; I have hundreds of testimonials I could share on its brilliance! But sometimes stubborn stains just need an extra kick up the bum.
Here are 2 simple stain treatment paste recipes for you to try when that oil/blood/sweat/grass stain won't budge!
A few handy tips when it comes to spot-treating stains (apart from avoiding them in the first place) is to get to them quickly! Throw stained clothing into a bucket of water (not hot, as this can set stains), and get them soaking, pronto! You can add a tablespoon of washing soda or borax to help stop the stain from setting in between the fibres.
You can also help treat stains by attacking them from behind; avoiding hot water when washing; avoiding the dryer on stained clothing as heat-set stains are harder to remove; by giving sunshine and its natural bleaching capabilities some credit – hang those clothes outside!
There isn't usually a one-answer-for-everything spray or solution. Sometimes you will have to try a few methods, or even repeat a treatment.
Simple Stain Treatment Paste
Recipe #1
Makes: enough for single use  Prep time: seconds
Ingredients
1 tbsp sodium bicarbonate (bicarb)
1 tbsp water – approx. (enough to make a smooth, slightly runny paste)
2 drops of essential oils
Recipe #2
Makes: enough for single use  Prep time: seconds
Ingredients
1 tsp sodium bicarbonate (bicarb)
1 tsp sodium carbonate (washing soda)
2 tsp liquid castile soap
2 drops of essential oils


My choice of essential oils…
My favourite essential oils in this recipe are lemon and eucalyptus but don't be limited by my suggestions. Use oils that fit your budget, or those that you already have in your collection. Read here for more information.
Method (for both recipes)
Add all ingredients to a bowl and mix until combined.
To Use
Apply to stain and massage in, or use a small brush to scrub gently. Allow resting for at least 60 minutes, before washing as usual.
Recipe Notes
I encourage you to patch test – I have to say that!! I haven't had issues with colour fading but I can't be held accountable if your clothes do!
It helps if you get to your stains as soon as possible after they appear.
Recipes can be doubled/tripled if you have multiple stains to treat. Be mindful that the paste can't be stored for future use – it will dry out.
If you have blood stains, try spraying directly with hydrogen peroxide (3%).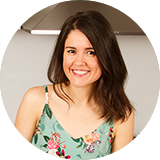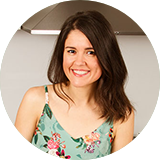 Krissy Ballinger
AUTHOR & ADVOCATE FOR NATURAL LIVING
Krissy wants to see a world where people make conscious choices that honour both humans and habitat. It is her mission to gently guide people towards this beautiful way of life. With a background in education and health promotion, she devotes her time to increasing awareness on common and avoidable toxins, as well as educating individuals on simple ways they can adjust their lifestyles to better serve themselves, and the planet. Natural DIY is Krissy's speciality, and she has sold over 50,000 copies of her recipe books, including her latest book, The Lifestyle Edit, the award-winning, Naturally Inspired - Simple DIY Recipes for Body Care and Cleaning, and her kids book, Make & Play - Natural DIY Recipes for Kids. She offers honest and gentle guidance, education and 100+ free natural DIY recipes on her website.