Often, I get asked how to reduce the 'greasiness' of my balm recipes. I almost always reply with 'use less, about 1/4 of what you're used to'. The awesome thing about natural balms and lotions, is that they don't contain multiple chemical ingredients that enhance penetration and create suffocating barriers. The idea is, usually, to use a little less and massage it in well, allowing those delicious natural butters and oils do their thing!
But, sometimes people aren't keen to take my advice, or they haven't seen the light yet, so I've created a very simple, three-ingredient lotion that is wayyyyyyy less greasy than any other balm or lotion I have made before. Depending on which essential oils you're using, you could apply this Velvety Moisturising Lotion to your body, face, on children and babies – the possibilities are endless. In fact, I think this could almost be your next 'everything' lotion, it's that versatile and good.
I've chosen jojoba oil for this recipe, but I have also made it with olive oil and it worked beautifully. Of course you could make it super luxurious with some rosehip and a touch of vitamin e oil too. 
So, find yourself 5 minutes, and make this one, you won't regret it!
VELVETY MOISTURISING LOTION
Makes: 165 g | 5.8 oz  Prep time: < 10 min. 
Ingredients 
100 g | 3.5 oz carrier oil (jojoba oil was my choice for this recipe)
5 g | 0.18 oz beeswax
60 g | 2.1 oz arrowroot flour (cornflour doesn't seem to work as a substitution)
20-30 drops of essential oils


My choice of essential oils…
My favourite essential oil combo for this recipe are ylang ylang, orange, rose geranium, patchouli (ratio of 10, 6, 5 and 4 drops) but don't be limited by my suggestions. Use oils that fit your budget, or those that you already have in your collection. Read here for more information.
Method
1. Add carrier oil and beeswax to a glass bowl and heat until completely melted. (Double boiler method– place bowl on a pot of gently simmering water and stir frequently; Microwave method– heat in short bursts on low, stopping and stirring frequently). Remove from heat.
2. Add arrowroot flour and essential oils, and mix until combined.
3. Transfer into container of choice.
Thermal Appliance Method
1. Add carrier oil and beeswax to thermal appliance bowl and melt: 4-5 minutes | approx. 70˚C (158˚F) | low speed. Extend time if required, until ingredients have completely melted.
2. Add arrowroot flour and essential oils, and mix for 5-10 seconds on low/medium speed, or until combined.
3. Transfer into container of choice.
To Use
Massage over body as needed.
Recipe Notes
This lotion should work well in a pump dispenser. If you find it is too thick (perhaps you live in a cold climate), add another 20g of carrier oil and mix in well. This should help the lotion travel up the tube.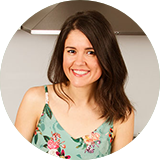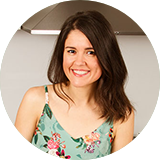 Krissy Ballinger
AUTHOR & ADVOCATE FOR NATURAL LIVING
Krissy wants to see a world where people make conscious choices that honour both humans and habitat. It is her mission to gently guide people towards this beautiful way of life. With a background in education and health promotion, she devotes her time to increasing awareness on common and avoidable toxins, as well as educating individuals on simple ways they can adjust their lifestyles to better serve themselves, and the planet. Natural DIY is Krissy's speciality, and she has sold over 50,000 copies of her recipe books, including her latest book, The Lifestyle Edit, the award-winning, Naturally Inspired - Simple DIY Recipes for Body Care and Cleaning, and her kids book, Make & Play - Natural DIY Recipes for Kids. She offers honest and gentle guidance, education and 100+ free natural DIY recipes on her website.