So, you have a thermal appliance in the house and you'd like to use it to make my recipes?
The good news is that many of my recipes (unless they're super-dooper easy) already have a thermal appliance method listed.
Recipes that have been written specifically for kids don't. Why? Because I found that the simplest, and often safest, way for kids to make my recipes is the conventional way!
But, I am here to help you with some tips to convert recipes, just in case you want to use your thermal appliance!
Top Tips When Converting Recipes
Weighing – While ingredients can be weighed straight into the bowl, I prefer separate digital scales, as they are the most precise, especially for small quantities. You can pop the thermal appliance bowl on the kitchen scales and weigh in the ingredients that way.
Melting  – Keep the temperature between 60-70 ˚C and on low speed.
Mixing – I recommend low to moderate speed.
Blitzing and Milling – This will need to be done at the highest speed.
Kneading – Most thermal appliances have a special function (or attachment) that will come in handy when kneading.
Extra tip – Be sure to use the little cup on the lid of your thermal appliance when mixing and milling to prevent the ingredients from escaping.
If you choose to use a microwave to melt your ingredients, just keep your zapping to short 15-20 second bursts, on the lowest power setting.
Check the ingredients and mix (as you would when using the conventional method) each time.
Please, don't stand too close!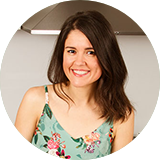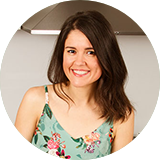 Krissy Ballinger
Author and Advocate for natural living
Krissy wants to see a world where people make conscious, educated decisions that honour both humans and habitat. With a background in education and health promotion, she devotes her time to passionately increase awareness on common and avoidable toxins, in everyday items like washing powder and deodorant, and to educate individuals on how they can easily reduce their daily exposure, through simple and realistic do-it-yourself ideas and recipes.
Krissy has sold over 40,000 copies of her natural DIY recipe books, including her award-winning book, Naturally Inspired - Simple DIY Recipes for Body Care and Cleaning, and her newly-released kids book, Make & Play - Natural DIY Recipes for Kids. She offers honest and gentle guidance, education and 100+ natural DIY recipes on her website.