Single-use nappies are so easy to use, but convenience comes with a trade-off. They are generally not made with sustainability in mind, often produced from petroleum-based plastics and wood pulp (think deforestation). There are also concerns relating to chemicals, fragrances and other indirect contaminants in single-use nappies. In 2019 ANSES (France's national health agency) reported on the Safety of Baby Diapers in relation to this chemical exposure.
Most disposable nappies are not able to be disposed of sustainably with some taking up to 150 years to break down. We need a better large-scale approach to one of our greatest necessities.
Here's a little bonus piece of info for you: whichever nappy option you choose, please scrape the poop into your toilet. Sewerage systems are made to safely deal with human waste to avoid contaminating landfill, ground water and/or causing illness.
The biggest problems generate the most solutions, particularly when a collective of mums' brains, and the buzz of home sewing machines, are working on it.
Modern cloth nappies are washable and reusable. That's where the choices begin, with numerous attractive designs and several styles:
〉All-in-ones (layers are all sewn in)
〉Two-in-ones (liners and cover can be separated)
〉Pocket (liners are removable and placed in a pocket)
〉Pre-flat, pre-fold nappies (a shape upgrade of traditional styles)
Then there are the fabric differences. Cloth nappies are made from cotton, polyester, viscose rayon, bamboo, microfibre, hemp, suede cloth, terry or fabric blends. Many styles are made from a combination of fabrics and have outer and inner layers.
The outer layers, shells, or covers (whether inbuilt or separate) are made from waterproof materials like Polyurethane laminate (PUL) or Thermoplastic Polyurethane (TPU), or water-resistant materials like wool, minky or fleece.
Nappies are fitted with adjustable press studs, snaps, velcro fasteners and/or have elastic (gussets) around legs and waist.
Removable liners (also called inserts or boosters) give added absorbency. Multiple liners are often needed. Up to 4 liners can be used for night-time.
With many brand, style and fabric options, to help choose the option best suited to your family, I recommend connecting with the Australian Nappy Association members and Local Government Areas who offer local workshops, purchase rebates and demonstration kits.
It is also possible to try before you buy through nappy hire. Companies like The Nappy Guru have nappy libraries.
While all reusables are better than big brand single-use nappies, it's worth keeping your eye on some questionable (and not sustainably made) materials that are sneaking into the layers of cloth nappies. I am not convinced that we need fabrics treated with antibacterial coatings. Synthetic fabrics, particularly those that shed, are on my watchlist (recent research detected microplastics in human blood).
Washing Modern Cloth Nappies
A 2021 UNEP report summarises current knowledge about the environmental performance of both single-use and reusable nappies through a meta-analysis of Life Cycle Assessment studies. We can reduce environmental impacts of reusable nappies through attention to how we wash and dry the nappies.
The process of washing nappies has evolved:
1. Scrape solids into the toilet
2. Dry pailing – Store used nappies between loads in a container that allows air circulation, for no more than 2 days. (Key points – NO water, NO pre-soaking, NO sterilising product)
3. Wash twice – First – use your machine's short cycle. You need a complete wash cycle (including spin) so all water from the load is drained and in the process what some brands call the "wee and poo soup" is totally removed. Second – wash a full load normally. Depending on the nappy style, some covers may not need two washes. (Key point – wash below 60°C, NO fabric softener)
4. Sun (and air) dry
Make a simple plan for storing and washing used nappies (and stuffing nappy liners back into your nappies for pocket nappies). So simple that you can do it sleepwalking, otherwise it may become really hard, really quickly. Don't underestimate the role of hot water (not above 60°C) and sunshine when cleaning nappies.
Why are washing instructions so complicated?
Some brands of nappies come with washing instructions and a long list of "DON'Ts", particularly relating to washing products, that can be daunting.
The difficulties are that nappies are made from multiple fabrics, and each fabric has a different laundering requirement. Some fabrics, like the waterproof outer layers, elastics and fasteners, start breaking down when exposed to harsh washing products and heat (water and sun). Other layers need hot water to clean properly and fully release soilage from the fibres. This is why one company gives one instruction, and another company appears to give contradictory advice.
Many brands of reusable nappies list specific approved products for washing their nappies.
A quick check of the ingredient lists of these products further complicates the issue. Guess what, some of the recommended products contain the ingredients that the same sources advise us to avoid. Some also contain potential irritants and nasties that are probably best kept away from our bubs' bottoms. If you need some pointers to help identify undesirables have a read of this blog.
The ingredient information is not available for all products. Cleaning companies are not required by law to list ingredients on the packaging, online or anywhere. (Please consider signing my petition to change this!)
It is encouraging to see brands who include "eco" washing product options. From these lists of recommended products Eco Store and Kin Kin stand out as being the best of the bunch, even if a few compromises need to be made.
Many companies explain that if you don't follow their washing instructions, it will void their warranty. Are we placing unnecessary stress on ourselves by worrying about warranties?
Even if you follow the strict instructions, I wonder how often nappy companies do offer refunds, repair or replacements beyond the statutory cover for defects in materials and manufacturing faults. Wear and tear on a frequently used item, like nappies, are not usually covered by any warranty. Nappy warranties don't seem to go beyond around 6 months from purchase anyway. If you are concerned, ask lots of questions before you buy.
Of course, if you are hiring nappies you need to follow all instructions closely, but otherwise I encourage you to remain curious, ask lots of questions and apply your own common sense.
Should I use DIY washing products?
I am not a fan of bleach, brighteners, and commercial fabric softeners, so the instructions to avoid these get a tick from me. Regarding DIY washing products, my advice is to use your own discretion. Personally, I say – go for it.
The natural ingredients in my DIY Washing Powder recipe are superstars in the land of cleaning and washing, with grime-fighting, water-softening, and stain-removing capabilities. They work for me for my washing. If it's all new, this guide to doing the laundry, the natural way will help. Sometimes it takes time to adjust. Jump onto my friendly Facebook group for inspiration and troubleshooting advice.
The reasoning behind why brands tell us not to use DIY washing powder to wash our nappies are the same reasons why DIY doesn't suit everyone for their everyday household washing. Nappy hygiene and baby comfort are my priority, and so is a desire to minimise our babies' exposure to red flag chemicals, fillers and fragrances contained in many washing products. If that means I end up with a few stains, or risk voiding the warranty on my nappies, or might need to purchase a new liner because it loses its absorbency over time, I am OK with that.
We all want the best for our babies and parents certainly don't need more guilt upon them. Even if you only use the nappy brand's recommended washing products, for multiple reasons, there will be times when the nappies appear to lose absorbency, or smell funky, or cause minor irritation. Tweaks to your washing process is a given, as babies get sick, grow, develop, and their diet changes. Often, it's nothing to do with the washing product.
I am not one for absolutes, so if it helps to ease worries, have an alternative washing product on hand and ready to go if you feel it's needed. Your first change towards better may be choosing a washing product that is fragrance-free. You may decide to use a commercial product when your cherub is sick, or alternate and use DIY for some loads, or a mix of half-and-half commercial and DIY. You decide your rules.
Have back-up nappy plans. Let go of what you "should" do. It's better to start with an acceptance that there will be hurdles and be ready to adapt and look at other options. You'll have dirty nappies to change for a long while (years), so if it doesn't work to begin with, ride it out and give it another go. All babies are different. All families are different. Sometimes day cares and other carers are not accepting of reusable nappies. It may suit you to use reusable nappies part time, or casually. Sometimes you'll just be too tired to care.
〉Single-use, throw away nappy liners are designed to catch nappy deposits to make the washing process easier for cloth nappies. Once you have tipped the poo into the toilet, the liner is binned (or composted, depending on what it is made from). Options available are bamboo, or paper liners made from cellulose wood pulp or corn-starch (Polylactide PLA).
〉Laundry services (BYO or Nappy Lease) like Conder House or Little Eco Baby.
〉Single-use disposable nappies – There are times when you may need to use disposables. When you do, be curious and compare products. Work within your budget to look for products that are better than others. Keep in mind that, as far as I can see, it is not yet possible to purchase a fully sustainable single-use nappy that is made, used and able to be disposed of sustainably.
The brand Thankyou, summed this up when they withdrew their nappies from the market in 2021 – The sustainability side of things is super tricky. You can nail it by creating a 'too expensive' product that no one buys or simply greenwash a cheaper product.
Double check that marketing claims relate to the nappies. Remember that babies are BIG business. I was startled to read of used nappies being placed in recycling bins (A definite NO). Then I ventured down the supermarket baby aisle. After the initial surprise over the abundance of muted "natural" look packaging (when did this happen?), I noticed the standout words "recyclable". On closer inspection this refers to the packaging, not the nappies. Some of the claims also only relate to components of the nappy and not the whole nappy.
The publicity the ANSES report stirred up, shifting public sentiment, and plans to reduce single-use plastics, are driving big brands to make changes. Better options are hitting the market, particularly in Europe, that are designed and made in a more sustainable way. In Australia companies have committed to change but are still lagging.
The term biodegradable is often used when marketing nappies. A key point is that "compostable", "home compostable" or "biodegradable" are not interchangeable. Compostable products do not have any toxic element to the environment after degradation. So, while all compostable material is biodegradable, not all biodegradable material is compostable. The sticking point in Australia, are the limited options for keeping used nappies out of landfill. Even fully compostable materials will not easily biodegrade in a general waste site.
It is my understanding that the elastic, gussets and fastening tabs are the most difficult to replicate with sustainably made materials that are compostable.
〉Single-use compostable nappies – In Australia, Eenee offers a hybrid nappy option designed to fully biodegrade in commercial composting facilities. Eenee's uPads are held in place with a reusable nappy wrap or pull up reusable cover. Before you try composting these nappies at home, please note that they only breakdown under special conditions. Eenee nappies offer collection services in some areas, and can be placed in FOGO bins, but ONLY in these shires. After a successful trial in NSW's Bega Valley the number of participating councils will hopefully increase.
My kids are well past the nappy stage, so I can't pass on personal tried and tested advice. Chatting to mums who are still in the swing of nappy changing years, a common tip of what works for them, relates to the liners. If you choose nappy style options where the liners can be separated, not only can this speed up the drying process, but liners are also more easily washed than the outer layers and generally made from more durable fabrics. The non-absorbent outer layers often only need one wash. You are also able to choose natural fibres more easily, for layers that are in direct contact with bub. While All-in-Ones seem the easiest to use, more care may be needed to wash them.
Start with a workable BETTER solution, rather than struggling for 'best'. The imminent arrival of a baby and the need to protect them, often drives us to search for more natural and environmentally friendly lifestyle options. Motivated by wanting the best for our children, there is the risk that we try to overhaul all areas of our lives, all at once, with the baby's due date set as the deadline. For help to get you started, take a look at this blog. Too much, too soon, can be overwhelming for any of us, let alone when you are also adjusting to caring for a newborn at the same time. Life with babies, particularly in the first months, can be hectic and draining and as a result parents suffer from limited time and energy. Add to that the parent guilt which launches at us from all angles. Be kind to yourself. Try and keep it simple. Consider compromises, rather than an all-or-nothing situation. You can't go wrong if you remain curious and open to substitutions. When there are choices, choose the options that are BETTER for you and your family.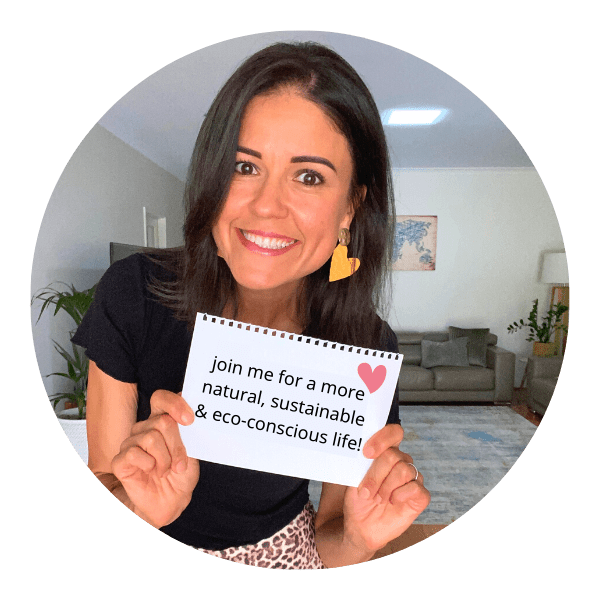 Krissy Ballinger
AUTHOR & ADVOCATE FOR NATURAL LIVING
Krissy wants to see a world where people make conscious choices that honour both humans and habitat. It is her mission to gently guide people towards this beautiful way of life. With a background in education and health promotion, she devotes her time to increasing awareness on common and avoidable toxins, as well as educating individuals on simple ways they can adjust their lifestyles to better serve themselves, and the planet. Natural DIY is Krissy's speciality, and she has sold over 80,000 copies of her recipe books, including her latest book, The Lifestyle Edit, the award-winning, Naturally Inspired - Simple DIY Recipes for Body Care and Cleaning, and her kids book, Make & Play - Natural DIY Recipes for Kids.