You know you're onto a winner when your reluctant-to-conform-to-change-rexona-loving-old-school-I'm-gonna-do-it-how-my-mum-did-it husband uses a handmade, natural, and chemical-free spray deodorant and it WORKS!
I will admit, it took a while to get him off the supermarket crap as there was no way he was going to rub a balm into his hairy pits. I kinda don't blame him and kudos to you, if you or your husband are happy with the balm; keep using it! A spray was so much easier to gently persuade him, and I imagine it would be a hit among the teenagers too.
This spray deodorant formula is a LONG time coming. I have used it flat out over the past few months and even after a game of netball in goal attack, still no stink. My husband says by the very end of a long day he may smell a little, but then follows with the recollection that he had the same effect from commercial sprays too.
Read this blog for tips on transitioning to natural deodorant. Happy spraying!
Spray Deodorant with Magnesium
Makes: 80 g | 2.8 oz Prep time: < 5 min.
Ingredients

15 g | 0.5 oz hot water (see recipe notes)
15 g | 0.5 oz magnesium chloride flakes
50 g | 1.8 oz witch hazel
20 drops of essential oils


My choice of essential oils…
My favourite essential oils in this recipe are tea tree, patchouli and lemongrass, but don't be limited by my suggestions. Use oils that fit your budget, or those that you already have in your collection. Read here for more information.
Method
1. Add hot water and magnesium to a bowl and mix until all magnesium has dissolved.
2. Add remaining ingredients and mix until combined.
3. Transfer into container of choice (I store mine in a master jar and refill a glass spray bottle).
To Use
Apply 1-2 sprays under each arm, onto clean armpits. Since oil and water don't mix, you'll need to shake well prior to each use.
Recipe Notes
Water should be distilled, purified or pre-boiled and cooled to extend shelf life.
If you remove hair prior to applying deodorant, you may feel a sting. It does subside but I recommend removing hair at night, and not applying anything until morning.
See my magnesium oil recipe for notes on the benefits of magnesium.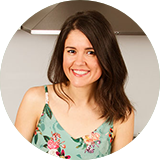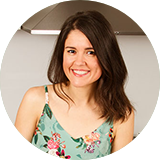 Krissy Ballinger
AUTHOR & ADVOCATE FOR NATURAL LIVING
Krissy wants to see a world where people make conscious choices that honour both humans and habitat. It is her mission to gently guide people towards this beautiful way of life. With a background in education and health promotion, she devotes her time to increasing awareness on common and avoidable toxins, as well as educating individuals on simple ways they can adjust their lifestyles to better serve themselves, and the planet. Natural DIY is Krissy's speciality, and she has sold over 50,000 copies of her recipe books, including her latest book, The Lifestyle Edit, the award-winning, Naturally Inspired - Simple DIY Recipes for Body Care and Cleaning, and her kids book, Make & Play - Natural DIY Recipes for Kids. She offers honest and gentle guidance, education and 100+ free natural DIY recipes on her website.