Magnesium Oil is pretty wonderful and definitely a simpler recipe to make, but when you need to target tense shoulders or restless legs, magnesium gel is definitely easier to apply! I incorporate magnesium into my body care routine, and I also take a powder supplement, and as a result, I honestly have never felt better: less tension, less headaches, better sleep – who wouldn't want all of that!
Low magnesium levels are typically diagnosed by symptoms as it is hard to get an accurate gauge through blood tests alone. Here are a few symptoms of magnesium deficiency:
☹️ Depression and anxiety
☹️ High stress levels
☹️ Insomnia, difficulty sleeping
☹️ Restless legs
☹️ Nausea
☹️ Low blood pressure
☹️ Headaches, migraines, cluster headaches
☹️ Muscles aches and pains
☹️ Hair loss
So, if you have already discovered the wonders of magnesium oil, you will absolutely appreciate the awesomeness of this recipe. If you're yet to try adding magnesium to your life, I highly encourage you give it a go. Magnesium oil has a tendency of causing a mild tingling feeling, however, I find this gel recipe to be a lot less tingly. As far as I am aware, magnesium is safe to apply on all ages, and during pregnancy (but, if you're doubtful, do your own research).
Magnesium Gel
Makes: 200 g | 7 oz Prep time: < 5 min.
Ingredients 
100g | 3.5 oz magnesium chloride flakes
1 tsp (flat, approx 2g) xanthan gum
100g | 3.5 oz hot water
20-30 drops essential oils


My choice of essential oils…
My favourite essential oils in this recipe are lemon and lavender, but don't be limited by my suggestions. Use oils that fit your budget, or those that you already have in your collection. Read here for more information.
Method
1. Combine magnesium chloride flakes and xanthan gum in a bowl and mix until well combined.
2. Add hot water and mix quickly until ingredients are well distributed, smooth and combined.
3. Add essential oils and mix well.
4. Transfer into container of choice.
To Use
Apply to areas of body that hold tension, such as shoulders and back, and to sore joints and muscles.
Recipe Notes
Water should be distilled, purified or pre-boiled and cooled to extend shelf life.
If the tingly feeling doesn't subside or it bothers you too much, rinse it off.
Check out my Magnesium Oil and Whipped Magnesium Cream recipes too!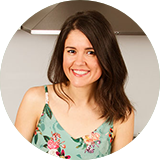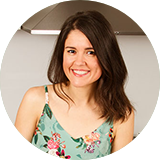 Krissy Ballinger
AUTHOR & ADVOCATE FOR NATURAL LIVING
Krissy wants to see a world where people make conscious choices that honour both humans and habitat. It is her mission to gently guide people towards this beautiful way of life. With a background in education and health promotion, she devotes her time to increasing awareness on common and avoidable toxins, as well as educating individuals on simple ways they can adjust their lifestyles to better serve themselves, and the planet. Natural DIY is Krissy's speciality, and she has sold over 50,000 copies of her recipe books, including her latest book, The Lifestyle Edit, the award-winning, Naturally Inspired - Simple DIY Recipes for Body Care and Cleaning, and her kids book, Make & Play - Natural DIY Recipes for Kids. She offers honest and gentle guidance, education and 100+ free natural DIY recipes on her website.