A long soak in a bath is something I think we all need to treat ourselves to every now and then. If a full-body bath is out of the question, go for a foot bath; we absorb a great deal of goodness and expel a great deal of toxins from our feet so don't overlook a quick soak, even when you're time-poor.
Epsom salt works to detox, soothe and relax the body, and aids in reducing inflammation; citric acid softens water and helps to give bath bombs their fizz; bicarb is antifungal, antiseptic and gently exfoliating, and excellent at eliminating odour and spirulina is a true superfood, a fine algae powder that is deep green in colour. It is rich in fatty acids, vitamins and minerals, and aids in detoxification.
Bath Salts with Epsom & Spirulina
Makes: 500 g | 17.6 oz Prep time: < 5min.
Ingredients 
300 g | 10.6 oz epsom salt
100 g | 3.5 oz citric acid
100 g | 3.5 oz sodium bicarbonate (bicarb)
1 tbsp ground spirulina
20 drops of essential oils


My choice of essential oils…
My favourite essential oils in this recipe are peppermint and spearmint, but don't be limited by my suggestions. Use oils that fit your budget, or those that you already have in your collection. Read here for more information.
Method
1. Add all ingredients to a bowl and mix until combined.
2. Transfer into container of choice.
To Use
Add 1 cup of mixture to a running bath of warm (not hot) water. Soak for at least 20-30 minutes.
Recipe Notes
If you want the layered look (as pictured), make another batch without spirulina. Or split this batch and only add spirulina to half. Then layer in a glass jar.
The spirulina will turn the bath slightly green. Not enough to stain anything. If you find the bath salt goes hard in the jar, use a spoon to break it up.
Adding one teaspoon of vitamin C powder to bath water while it is filling, helps to neutralise the chlorine present in unfiltered tap water, and I highly recommend getting some. For more info about the effects of chlorine, head over to the Super Soak Bath Salts recipe.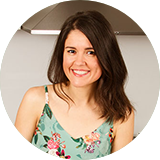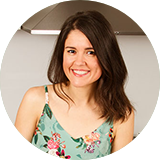 Krissy Ballinger
Author and Advocate for natural living
Krissy wants to see a world where people make conscious, educated decisions that honour both humans and habitat. With a background in education and health promotion, she devotes her time to passionately increase awareness on common and avoidable toxins, in everyday items like washing powder and deodorant, and to educate individuals on how they can easily reduce their daily exposure, through simple and realistic do-it-yourself ideas and recipes.
Krissy has sold over 40,000 copies of her natural DIY recipe books, including her award-winning book, Naturally Inspired - Simple DIY Recipes for Body Care and Cleaning, and her newly-released kids book, Make & Play - Natural DIY Recipes for Kids. She offers honest and gentle guidance, education and 100+ natural DIY recipes on her website.