DIY natural sunscreen gets people talking… In my opinion, the commercial stuff should get people talking more… Hopefully one day…
This natural sunscreen formula has been tested on my family and many of my friends, and many of my workshop attendees have boasted about how effective it is. I feel 100% comfortable using this formula on myself, hubby and the kids, but I also use common sense. Most of us have that, yeah? Do your research. There are so many warnings out there when using homemade natural sunscreen, and I understand why – it's serious business. But, I've done my research, and for me, weighing up the negative effects of the chemicals used in commercial sunscreens, and the potential ineffectiveness of homemade natural sunscreens, it's an easy choice.
Still, this recipe comes with a disclaimer: DO NOT use a homemade sunscreen unless you are 100% comfortable with the idea. It is your choice and you're responsible for your own sun safety. This might surprise you, but the best UV protection practice you can adopt is avoidance.
That means covering up with long sleeves, hats and sunnies, and limiting your time in the sun during peak hours. By consuming a diet of fresh food, rich in antioxidants and good fats, such as avocados, coconut oil, berries, dark chocolate, leafy greens, fish etc., you may positively influence your risk of sunburn from the inside out.
When I need to wear sunscreen, or apply it on my children, because covering up is not an option, I opt for the natural DIY version. The active ingredient is zinc oxide, which is rated as one of the best and safest defences against UVA and UVB rays. It works by scattering, reflecting and absorbing UV rays, protecting skin.
Take great care when working with zinc oxide, only purchase non-nano particles, and be careful not to inhale it. It is the zinc oxide that gives skin a bit of a ghostly white appearance. Before you go running, that is what you want for the best chance of UV protection. When my son, Lucas, calls himself Mr White Guy, I'm a happy mumma!
Of course, you need to be extra cautious when using DIY natural sunscreen. There are so many variables and you won't be able to control them all. Making sure you apply a sufficient amount (1 teaspoon for face, head and neck; 1 teaspoon for each arm and leg etc.) is important, as is reapplying every one to two hours (especially when swimming). I can't guarantee the SPF of these sunscreen recipes, although I estimate it to be approximately SPF 15. In your kitchen, that outcome may vary. Just be sure to mix the sunscreen really well to distribute the zinc oxide.
For more information about some of the nasty ingredients hiding in many mainstream sunscreen tubes, check out EWG.org and brace yourself.
One of the hideous chemicals you must read about is oxybenzone; rated 8/10 for toxicity by EWG, it absorbs through the skin in significant amounts. Check this out (from truthinaging.com) – "According to the Environmental Working Group, there are several suspected dangers associated with Oxybenzone. Despite its sun protective abilities, it has been shown to penetrate the skin and cause photo-sensitivity. As a photocarcinogen, it has demonstrated an increase in the production of harmful free radicals and an ability to attack DNA cells; for this reason, it is believed to be a contributing factor in the recent rise of Melanoma cases with sunscreen users. Some studies have shown it to behave similarly to the hormone estrogen, suggesting that it may cause breast cancer. It has also been linked to contact eczema and allergies." Now that is just one of many chemicals you need to watch out for in sunscreens. Also, watch out for octinoxate and octocrylene.
So, if you want to give this a go, DO IT!! If not, don't.
NATURAL SUNSCREEN BALM
Makes: 265 g Prep time: < 10 min.
Ingredients
• 120 g carrier oil (fractionated coconut oil and sweet almond oil are popular choices)
• 60 g coconut oil (the type that solidifies)
• 25 g shea butter
• 20 g beeswax
• 40 g zinc oxide (non-nano particles)
Method
1. Add carrier oil, coconut oil, shea butter and beeswax to a glass bowl and heat until completely melted, using either a microwave or the double boiler method. (Double boiler method– place bowl on a pot of gently simmering water and stir frequently; Microwave method– heat in short bursts on low, stopping and stirring frequently). Remove from heat.
2. Add zinc oxide and mix until combined.
3. Transfer into container of choice.
4. Place into the fridge or freezer to set (this will reduce the chance of graininess developing over time).
5. To help evenly distribute the zinc oxide, periodically mix the sunscreen as it sets.
WANT TO TINT YOUR SUNSCREEN?
Try adding a teaspoon of either bentonite clay or cocoa/cacao powder to your mixture. It is best added at step 2 when you're adding the zinc. As your balm starts to set, continue to stir – this ensures your colourant is evenly distributed and doesn't settle at the bottom. Once fully set and mixed, scoop into jars or tins. You could also use a brown/golden mica.
AFTER A THINNER CONSISTENCY?
Simply reduce beeswax to 10g. Make sure you shake well before every use to distribute the zinc.
To Use
Use as you would regular sunscreen, thoroughly covering exposed skin and reapplying every one to two hours, especially after swimming.
Recipe Notes
〉This sunscreen has NOT been lab tested. This means you need to be careful with your sun exposure and see how this lotion works for you. I am happy to use it on myself and my family, but our skin types may vary to yours so be responsible when trialling this recipe.
〉Be careful using zinc oxide. I have long arms and hold my breath, but if you're worried about inhaling it, wear a mask until it is mixed in and no longer loose and floating around.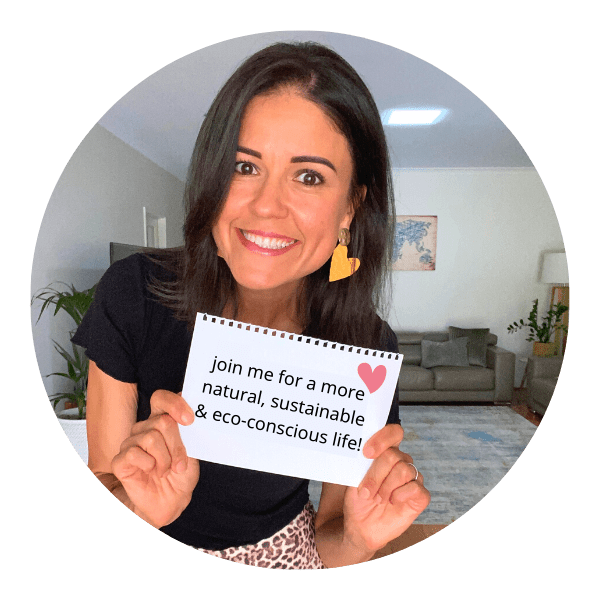 Krissy Ballinger
AUTHOR & ADVOCATE FOR NATURAL LIVING
Krissy wants to see a world where people make conscious choices that honour both humans and habitat. It is her mission to gently guide people towards this beautiful way of life. With a background in education and health promotion, she devotes her time to increasing awareness on common and avoidable toxins, as well as educating individuals on simple ways they can adjust their lifestyles to better serve themselves, and the planet. Natural DIY is Krissy's speciality, and she has sold over 80,000 copies of her recipe books, including her latest book, The Lifestyle Edit, the award-winning, Naturally Inspired - Simple DIY Recipes for Body Care and Cleaning, and her kids book, Make & Play - Natural DIY Recipes for Kids.