Fast fashion, a relatively new term for many of us. It's when we buy clothes with the vision that we will just replace them when they wear out, or we get tired of them. Often the items are cheap in quality and not designed to last. So many of accumulate clothes we don't wear, leading to 'spring cleaning' days where we proudly go through out wardrobes and discard the items we no longer want, many unworn. I'm being pretty general here, but I've seen it so many times and I'd bet many reading this have been guilt of it once or twice at the very least!
Australians acquire an average of 27 kilograms of new clothing per person, and discard around 23 kilograms of clothing to landfill each year. That's a staggering 800,000 tonnes heading to landfill per year. What's more there is a lot of clothing in the world that is not worn, worn only once, and is disposed of too soon. (source)
Today is the day to create change, right? Yay! If you're committing to reducing your clothing waste the first step is to buy less – this is always the first step. Use when you have for as long as you can. If you find yourself with piles of clothes that you need to offload, keep reading and I'll give you some pointers on what to do with them.
PAUSE, BEFORE DONATING TO CHARITY BINS. Ask yourself…
How can I best help the charities?
The convenient option is to dump your castoffs into a charity bin. Yes, these shops rely on donations. Items are sold to raise funds for the social services that support vulnerable members of our community. Have you considered the time and money charities waste sorting through and paying to dump unsaleable items into landfill? Did you know that Charities are overwhelmed; only 1% of total collected disposed garments are recycled?
So, what should we do?
First, we need to sort our unwanted clothes into two piles – be picky!
〉Saleable – Good as new condition. Clothes that are lightly worn or never worn (and clean). If you'd be proud to give them to your fussy friend, then they make this pile.
〉Unsaleable – Clothes that show wear and tear OR cannot be easily sold in their current state (this includes extreme trends or well out of date items).
Ask your local charity shops what items sell well, and what items they need. Your size 12, black t-shirt may be in perfect condition, but if they are already overstocked and already have ten similar, it's unlikely to sell.
For charity locations near you see – Charitable Recycling Australia, Australian OpShop Listing, WA's ultimate op shop guide, Clothing Recycling – Planet Ark Recycling Near You, GiveNow – Give Clothes.
How can I get clothes directly into the hands of someone who needs it, or will love it?
Ask around and hand down items to people you know.
Ask your local advocacy groups if they take direct donations. Consider churches, schools, soup vans, women's refuges and others who work directly with local community members in need.
You may have an organisation like ReInspired Threads in your community.
List your items on Buy Nothing New, Freecycle or Facebook freebies groups. Check for a local "Really, Really Free Market".
How can I sell my preloved clothes?
Re-commerce is the fancy name for selling second hand items. It's never been easier for buyers and sellers to connect. If you have speciality items, look for speciality sellers who will appreciate their value.
Host a garage sale or attend an event such as designer clothing swap expo, preloved clothing market, fashion style swap, The Clothing Exchange, or trash & treasure market.
Try online platforms such as Facebook Buy and Sell groups, Marketplace, Trading Post, Gumtree, Ebay, Etsy, Depop, AirRobe, Poshmark, RealReal, and Reluv.
Consignment shops – they accept your items to sell on your behalf and offer you a percentage of the sale price when the items sell.
PAUSE BEFORE THROWING UNSALEABLE ITEMS INTO THE BIN. Ask yourself…
How can I give this item some attention (repair or refurbish) to make it wearable again?
The saying "prevention is better than cure" applies here and reminds us to look after and wash our clothes carefully to extend their life.
Try adopting the habits of your granny – her apron was put on as a ritual before cooking, she changed out of her "going out" clothes into her "house" clothes upon arriving home. Items were aired out and sponged off, rather than automatically thrown in the washing machine after a single wear. You'll also help reduce greenhouse gas emissions by doing this.
To get rid of clothing moths whose larvae eat holes in your natural fibres, try putting items in the freezer for a couple of weeks to kill them (ok, this may not be practical for a whole wardrobe!). To deter moths moving in, try essential oils like lavender, rosemary, thyme, eucalyptus, clove, lemongrass or cedarwood, in a bag with dried lavender or bicarb, or both. Experiment and top up often.
How can I get the stain out?
For those pesky stains try my Simple Stain Treatment Paste DIY. The quicker we deal with a stain, the better the outcome. It's a good habit to check clothes for stains before they go into the machine. Check out Your essential guide to doing the laundry, the natural way for more remedies.
How can I mend a rip, hole? Replace elastic? Cover a stain? Sew on a button?
Learn to sew. Sewing can be meditative! Erin Lewis-Fitzgerald, author of the book Modern Mending has a friendly Facebook group Modern Mending Club.
Visit a Repair cafe, Repair Café Australia, Repair Lab, Repair Hubs, or pop-up Fix-It stalls at markets and events.
Seek out a local alterations shop, or social enterprises like Second Stitch who offer an alteration business as part of broader training for women from diverse backgrounds.
Watch this space – Fashion on Climate identifies greater scope for "brands and retailers to introduce professional repair services".
How can I reuse the fabric for another purpose and upcycle or remake the item (for unsaleable clothes well past their use-by date with no possibility for revitalisation)?
Repurposed fabric can be turned into reusable beeswax covers. I like using fabric to wrap presents and as decorative fabric jar toppers. Cotton t-shirts make great dusting cloths. Cut up tights are my go-to garden ties.
Get crafty! Clothing items of sentimental value can be remade into pillows (Grandad's flannel shirt?), patchwork, or the no-sew wall decoration made by mounting a favourite piece of fabric (band t-shirt?) in an embroidery hoop. Try remaking jeans into skirts. Type "Upcycled Fashion" into a search engine for ideas. Consider making a braided rug, or a dog snuffle mat. Fabric can also be remade into reusable shopping bags or decorative bunting. Some Boomerang Bag groups accept fabrics from clothes.
What other options are available for unsaleable items?
Items can be cut up for rags. Ask your local mechanic what they need. Some charity centres have scaled up rag recycling projects. Check if your local charity accepts items for rags. If they do, package them separately and clearly label – suitable for rags only (denim and polar fleece are unsuitable).
Call your local government to ask if they have a textile recycling plan. If they don't, campaign for the council to implement one. Why – Ratepayers pay for residential waste and many landfills are running out of space.
Here are some companies to contact to see if they accept old clothes in your area. Sadly, some offer services for businesses and not individuals. Ask if there is a local business drop off point nearby. Some only take wearable items. If you want to give back to the community, choose the not-for-profits or social enterprises.
Let's be upfront. I urge you start conversations with these companies directly. Ask about the end-use of clothing items. If there is no clear transparency in the responses, question whether you are passing on the problem to someone else. Some companies sell unsaleable clothing lots to overseas markets. ABC's program Dead white man's clothes reveals the unsavoury impact of this.
〉UPPAREL – You pay postage and in return you receive a store voucher.
〉H&M accept clothing in store. Is this a marketing initiative in disguise? H&M are leaders in the industry by volume of sales (major fast fashion culprits!).
〉Australian Clothing Recyclers collect, then distribute wearable items to overseas agencies.
〉After – scheduled collections in Melbourne for a fee.
〉WORN UP collect uniforms for a cost from schools or businesses.
〉SCR Group enables drop offs to Hubs.
〉King Cotton distribute clothing bins and collect wearable clothing items.
〉Textile Recyclers Australia collect clothing for a small fee.
〉Circular Centre Australia generally only service councils and businesses. In conjunction with Clean up Australia Day, they recently conducted "community clothing collections".
Watch this space – grassroots activism and non-Governmental organisations, have managed to get world leaders, governments, and industry to sit around the table to discuss the campaign for change in the fashion industry.
Your actions can make a difference. The Fashion on Climate report proposes that "encouraging sustainable consumer behaviours" accounts for 18% of potential emission cuts of around 143 million tonnes of GHG emissions in 2030.
Why not try imposing a little buying ban on yourself/the family? For some tips, read my experience in #100inmywardrobe Challenge & 2019 Buying Ban. Let's get serious about clothing waste and actually do something about it!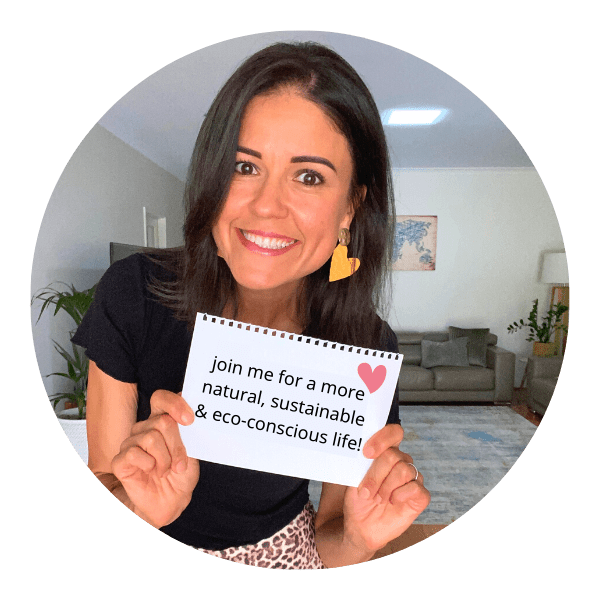 Krissy Ballinger
AUTHOR & ADVOCATE FOR NATURAL LIVING
Krissy wants to see a world where people make conscious choices that honour both humans and habitat. It is her mission to gently guide people towards this beautiful way of life. With a background in education and health promotion, she devotes her time to increasing awareness on common and avoidable toxins, as well as educating individuals on simple ways they can adjust their lifestyles to better serve themselves, and the planet. Natural DIY is Krissy's speciality, and she has sold over 80,000 copies of her recipe books, including her latest book, The Lifestyle Edit, the award-winning, Naturally Inspired - Simple DIY Recipes for Body Care and Cleaning, and her kids book, Make & Play - Natural DIY Recipes for Kids.