I was blown away when I looked into the contents of a few mainstream charcoal peelable face masks. With such a simple concept, how on earth can one little bottle pack in so many ingredients, and how can anyone put so many questionable chemicals into a product and feel ok about it?
Ingredients such as Triethanolamine, Parabens, Ceteareths, Phenoxyethanol and Benzyl Alcohol are common offenders in some of the store-bought bottles I investigated, but the DIY versions on the net encourage the combination of activated charcoal and GLUE! What the?!!
It is mainly for this reason that I created this Charcoal & Turmeric Peelable Face Mask recipe – to give the DIY-eager peeps a healthy alternative.
But before you go and get all excited, applying a mask a week to suck out all of your blackheads and unclog your pores, please know that a mask like this is designed to be used infrequently. I recommend no more frequently than every 8-12 weeks. The reason for this is the skin on our face is covered in fine vellus hair which serves the purpose of regulating body temp and helping sweat evaporate, so we don't want to be ripping that off. Also, the smoothing effect you feel afterwards is also enhanced because your skin's natural oils and sebaceous filaments (mistaken for blackheads on the strip) may also be removed, compromising the skin's barrier, which protects our skin from infection and harmful bacteria. The little sebaceous plugs will be replaced in 30 days anyway.
So with all of that in mind, use this mask occasionally IF you feel compelled. Just please don't go using a DIY recipe that involves glue!
Charcoal & Turmeric Peelable Face Mask
Makes: enough for single use Prep time: < 5 min.
Ingredients
2 tsp gelatin powder
½ tsp activated charcoal powder
½ tsp turmeric (ground)
¼ tsp jojoba oil
4 drops of essential oils
2 tbsp hot water (see recipe notes)


My choice of essential oils…
My favourite essential oils in this recipe are lemon and lavender, but don't be limited by my suggestions. Use oils that fit your budget, or those that you already have in your collection. Read here for more information.
Method
1. Add gelatin, charcoal, turmeric, jojoba oil and essential oils to a small bowl.
2. Add hot water and mix quickly until smooth and combined. Add a little extra hot water if required.
To Use
Using a make-up brush, apply a layer of mixture to face, avoiding all sensitive areas such as eyes, eyebrows, hairline and top lip – ouch! Keep brushing and dabbing mixture over face until a thick layer forms. Wait 20-30 minutes or until mask is dry and peel off carefully. Use a wet washcloth to remove any excess.
Recipe Notes
Water should be distilled, purified or pre-boiled and cooled to extend shelf life.
I like to exfoliate gently (with this) after I apply the mask, and before I moisturise (with this).
You might like to make up a double/triple batch without water and keep it dry in a jar, only adding a tablespoon of mix and enough water to make a paste as you need it. This is perfect if you only want to treat your nose, chin and T-zone. Also makes a super-cool gift idea!
If the complete mix is left too long it will set. Add a little more hot water and mix until smooth.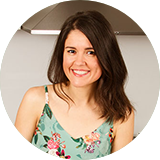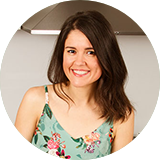 Krissy Ballinger
Author and Advocate for natural living
Krissy wants to see a world where people make conscious, educated decisions that honour both humans and habitat. With a background in education and health promotion, she devotes her time to passionately increase awareness on common and avoidable toxins, in everyday items like washing powder and deodorant, and to educate individuals on how they can easily reduce their daily exposure, through simple and realistic do-it-yourself ideas and recipes.
Krissy has sold over 40,000 copies of her natural DIY recipe books, including her award-winning book, Naturally Inspired - Simple DIY Recipes for Body Care and Cleaning, and her newly-released kids book, Make & Play - Natural DIY Recipes for Kids. She offers honest and gentle guidance, education and 100+ natural DIY recipes on her website.