This recipe for puff paint is an adaptation of something I used to do with my Early Childhood Studies students, back in my teaching heyday! It is fun, non-toxic and is easily made with common pantry ingredients.
This activity is a fun way to fill some time on the school holidays; my kids are occupied for at least 45 minutes being creative and crafty!
PUFFY PAINT
Makes: 420 g | 14.8 oz Prep time: 10-15 min. (for kids)
Ingredients
150 g | 5.3 oz water (see recipe notes)
150 g | 5.3 oz fine salt
80 g | 2.8 oz self-raising flour
40 g | 1.4 oz arrowroot flour
Colourant (as much as you like; can be liquid or powder, but liquid is best)


Method
1. Weigh the water, salt, self-raising flour and arrowroot flour into a medium mixing bowl.
2. Mix really well, until the mixture is smooth and there are no lumps left.
3. Divide the mixture evenly between 5 squeeze-style containers and add a different colouring to each one, then shake well (or use a paddle-pop stick to jiggle and stir).
⭐ For general information on using a thermal appliance (or microwave), click here.
To Use
Squeeze different patterns onto paper, and then you have 3 choices:
?️ Pop your paper in the microwave for 5-10 seconds (for the best puffy result).
?️ Place your paper in the oven (200 ˚C) for 5 min (don't take your eyes off it!).
?️ Let your paint air dry.
Recipe Notes
Water should be distilled, purified or pre-boiled and cooled to extend shelf life.
This paint should last for a few weeks.
Over time, if the mixture thickens in the bottle, just add a little splash of water and shake well.
You'll also find this recipe in my DIY recipe book for kids!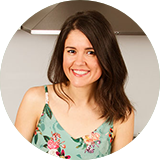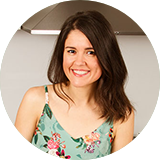 Krissy Ballinger
AUTHOR & ADVOCATE FOR NATURAL LIVING
Krissy wants to see a world where people make conscious choices that honour both humans and habitat. It is her mission to gently guide people towards this beautiful way of life. With a background in education and health promotion, she devotes her time to increasing awareness on common and avoidable toxins, as well as educating individuals on simple ways they can adjust their lifestyles to better serve themselves, and the planet. Natural DIY is Krissy's speciality, and she has sold over 50,000 copies of her recipe books, including her latest book, The Lifestyle Edit, the award-winning, Naturally Inspired - Simple DIY Recipes for Body Care and Cleaning, and her kids book, Make & Play - Natural DIY Recipes for Kids. She offers honest and gentle guidance, education and 100+ free natural DIY recipes on her website.