Every single time I replace a toxic, chemical-laden commercial household or beauty product for a clean, green and natural homemade product, I do a little happy dance. It's a great feeling! This cleaning paste is no exception. I use it to clean my toilets, sinks and showers. I also use it to clean porcelain mugs that have discoloured from tea and coffee. A soft dishcloth and a little scrubbing power is all it takes!
Cleaning Paste
Makes: 245 g | 8.6 oz Prep time: < 5 min.
Ingredients  
½ cup | 140 g | 4.9 oz sodium bicarbonate (bicarb)
¼ cup | 65 g | 2.3 oz liquid castile soap
2 tbsp fine salt
30 drops of essential oils
1 tsp hydrogen peroxide 3% (per use)


My choice of essential oils…
My favourite essential oils in this recipe are lemon and clove, but don't be limited by my suggestions. Use oils that fit your budget, or those that you already have in your collection. Read here for more information.
Method
1. Add all ingredients to a bowl and mix until combined.
2. Transfer into container of choice.
To Use
Add 1 tablespoon of paste and hydrogen peroxide to a bowl, and mix until combined. Apply to surface and scrub with a microfibre cleaning cloth. Rinse with water and polish with a clean, dry cloth.
Recipe Notes
Adding hydrogen peroxide adds a disinfecting boost to your paste, however, it can be omitted if you don't have it handy. If your paste is too dry, add a little extra liquid castile soap and mix.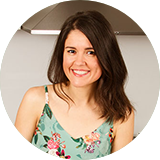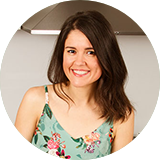 Krissy Ballinger
Author and Advocate for natural living
Krissy wants to see a world where people make conscious, educated decisions that honour both humans and habitat. With a background in education and health promotion, she devotes her time to passionately increase awareness on common and avoidable toxins, in everyday items like washing powder and deodorant, and to educate individuals on how they can easily reduce their daily exposure, through simple and realistic do-it-yourself ideas and recipes.
Krissy has sold over 40,000 copies of her natural DIY recipe books, including her award-winning book, Naturally Inspired - Simple DIY Recipes for Body Care and Cleaning, and her newly-released kids book, Make & Play - Natural DIY Recipes for Kids. She offers honest and gentle guidance, education and 100+ natural DIY recipes on her website.