*March 16, 2020* In light of the current virus sweeping the world, I strongly suggest skipping the DIY sanitisers. Aim to thoroughly wash your hands as much as possible, and don't touch your face, in order to minimise risk. If you absolutely must use sanitiser, opt for one that is alcohol-based, as per the World Health Organisation's advice.
This spray is my go-to recipe when it comes to on-the-go-germ-fighting-fluid-in-a-spray-bottle! In saying that, I don't claim, nor do I believe, that my recipe kills all germs. But it certainly gives me peace of mind, and I believe it's good enough on an average day-to-day basis when I can't access a sink! We use this DIY recipe, probably only a few times a week, we don't rely on it, and we've never been healthier; some might say we thrive! Is this a placebo effect? If so, I'll take it! Or maybe it's because we're not exposed to half as much as we used to be, in terms of our toxin body-burden, or maybe it's our exceptional inner health doing the work for us, who knows. Something to keep in mind is that just because we're exposed to a pathogen, does not mean it'll take over and make us ill.
Since we stopped frantically killing the germs (good and bad) from our bodies, we're actually much healthier and our hands are less irritated. And it's no wonder; some of the ingredients in mainstream hand sanitising sprays have been linked to endocrine disruption, skin irritation and organ system toxicity (plus toxicity to aquatics and environmental persistence).
Triclosan-containing soap products were not found to provide any additional skin-sanitizing benefits compared to soap not containing Triclosan. In addition, TCS was found to produce bacterial resistance via target site modification which decreased the inhibitory effect of this chemical. With research findings like this, it's a wonder we are still seeing it in personal care products.
I'll be honest here, do you really need hand sanitiser? Spraying your hands to conveniently kill germs when you're out and about, shopping, at the park, running errands with kids, is a modern-day, largely unnecessary, luxury (did your parents use them?).
Think about it, we know that we can wash our hands and achieve the same results as a quick 'spray and rub'. And while it is indeed handy to have a bottle of 'soap and water' in your handbag, it's certainly not a necessity. Just find a bathroom and wash your hands, and in the meantime, don't touch your face with your possibly contaminated hands. 
Back to the recipe at hand… It contains some powerful essential oils which are highly antibacterial and antimicrobial, and won't dry your hands (well, it doesn't dry ours). Does it destroy all of the germs on your hands? Unlikely. But it is enough to give me some peace of mind when I'm out and about and don't have access to a sink, soap and water.
Because it contains water and essential oils, I suggest shaking it well, making it in small batches and reading all of my recommended reading notes.
HAND SANITISING SPRAY
Makes: 50 g | 1.8 oz Prep time: < 5 min.
Ingredients
50 g | 1.8 oz water
1 heavy pinch salt
30 drops of essential oils


My choice of essential oils…
My favourite essential oils in this recipe are tea tree, thyme and cinnamon, but don't be limited by my suggestions. Use oils that fit your budget, or those that you already have in your collection. Read here for more information.
Method
1. Add all ingredients to a bowl and mix until combined.
2. Transfer into container of choice. (I use a glass bottle with spray atomiser).
To Use
Spray hands as required. Since oil and water don't mix, you'll need to shake well prior to each use.
Recipe Notes
You might find it easier to add ingredients directly into your chosen container and shake to combine. Add essential oils first to lessen the risk of them overflowing when you secure your lid.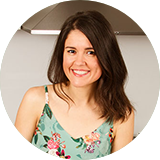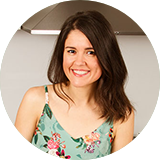 Krissy Ballinger
AUTHOR & ADVOCATE FOR NATURAL LIVING
Krissy wants to see a world where people make conscious choices that honour both humans and habitat. It is her mission to gently guide people towards this beautiful way of life. With a background in education and health promotion, she devotes her time to increasing awareness on common and avoidable toxins, as well as educating individuals on simple ways they can adjust their lifestyles to better serve themselves, and the planet. Natural DIY is Krissy's speciality, and she has sold over 40,000 copies of her recipe books, including her award-winning book, Naturally Inspired - Simple DIY Recipes for Body Care and Cleaning, and her kids book, Make & Play - Natural DIY Recipes for Kids. She offers honest and gentle guidance, education and 100+ natural DIY recipes on her website.