I love coffee! One of the best investments we made was buying a coffee machine – not only am I able to make a perfect (cheap) cup of coffee from the comfort of my kitchen, I now have a consistent supply of coffee grounds, and there is so much that can be done with them other than send them to landfill. What's the problem with sending coffee grounds to the tip? Well, food and green waste in landfill (which is an anaerobic environment) = methane and increased carbon emissions (25x more damaging to the environment than carbon dioxide) = global warming.
If you're also producing coffee grounds at home and you're keen on learning how to keep them out of landfill, keep reading and I'll give you a few ideas on how to put them to good use.
Firstly, guess what thrives off coffee grounds? Our gardens! You can sprinkle a small amount of coffee grounds directly onto established garden beds. This works if grounds are mixed in with soil, leaf matter and bark to kickstart a composting process. While it's tempting to dump grounds directly on the garden daily, it's best not to. Think about your garden as a living, breathing ecosystem – it needs balance, so take it easy.
Studies (1,2) show dumping too many grounds, too often, on your garden will hinder plant growth and development likely due to chlorogenic acid (phytotoxic), tannins and caffeine (toxic to organisms). For an existing garden bed, nitrogen reserves already present in the soil can be drawn away from existing plants and depleted during the process of the grounds breaking down. So as a mulch, coffee grounds are suitable to suppress weed growth (and all growth) if you don't intend on planting in that area for months (around 6 months until it breaks down). 
Coffee grounds contain nitrogen (around 2%), potassium, magnesium and other trace elements that plants need for healthy growth.  We therefore assume that grounds can act as a fertiliser.  Yes, these components are present, yet not readily available to feed, or be absorbed by, the plants in the form that they need. That's where composting comes in …
Coffee grounds are valuable to your garden when used as organic matter in a composting process or worm farming. When you feed your spent grounds to a composting system (combined with other kitchen and garden waste) it transforms into rich compost, or worm castings and worm tea. Compost is a valuable addition to your garden as a nutrient rich fertiliser. Healthy soil equals thriving plants that are more resistant to pests and disease.
Coffee grounds are a 'green' composting ingredient – the nitrogen present feeds bacteria (microbes, fungi, micro and macro-organisms including worms) which in turn transform organic matter over time into compost.  Amazingly, the chlorogenic acid, tannins and caffeine are also broken down and detoxified through this composting microbial degradation.
Recommended ratios on the quantity of grounds to add to composting vary.  If you are adding ingredients following the ratio of one-part green to three-parts brown, around 20% of the green component is a good start, although some composters use up to 50%.
Love the idea of composting but don't have one set up (or the desire to set one up!)? Here are some other ideas along the same vein:
〉Check out ShareWaste. I send most of my grounds (and all of my food scraps) to Jane's compost and worm farms. Read more here.
〉Connect with your local Community Garden. You may even have a Community Compost Bin located in your neighbourhood.
〉Does your local government provide a FOGO (Food Organics Garden Organics) regular kerbside bin collection service for compostable waste?
〉Companies are collecting coffee grounds from cafes and distributing to local communities for composting.
– donutwaste in Perth
– Reground in Melbourne and Geelong
〉On a large-scale basis Coffee 4 Planet Ark are working with industry partners to 'advance a circular economy' and investing in research into broader commercial applications for used coffee grounds.
It's debatable whether grounds are, as reported, an effective physical barrier to deter snails, slugs or ants.  Personally, the itty-bitty ants in my backyard go about their normal business and are not fussed by coffee grounds, but there is no harm in trying. An added bonus of using grounds in your compost is that the strong coffee odour might deter pests by making the smell of your compost less attractive.
Why not use your grounds to exfoliate your skin? Simply combine some fresh grounds with a little olive oil and massage over wet skin, then rinse. Boom – cheapest way to freshen up your skin, and it's practically waste free! If you want to get a little more creative, check out this Coffee Body Scrub and this Espresso Soap Bar recipe.
Are you a seafood lover? It isn't recommended to compost seafood but adding some coffee grounds before throwing out the scraps will help to offset the stench. Your bin (and neighbours) will thank you!
There you have it. No excuse not to do something productive with your coffee grounds. And if you're eager to take it one step further, have a chat to your local cafe about some of the options available to them to help reduce the amount of grounds they send to landfill (which is often in plastic bags!).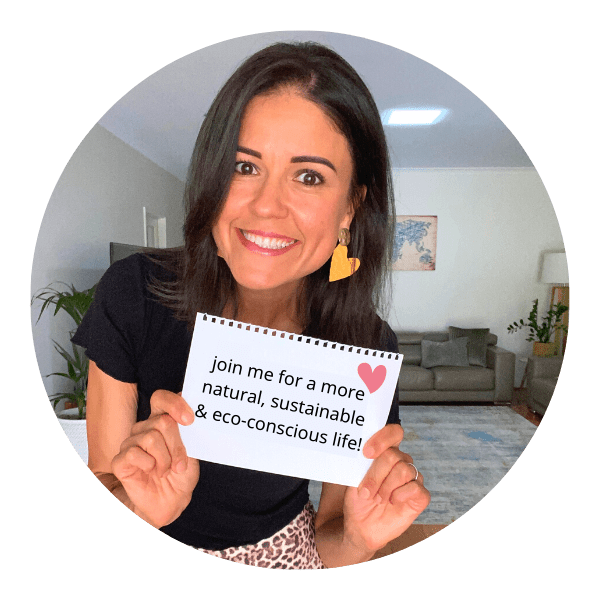 Krissy Ballinger
AUTHOR & ADVOCATE FOR NATURAL LIVING
Krissy wants to see a world where people make conscious choices that honour both humans and habitat. It is her mission to gently guide people towards this beautiful way of life. With a background in education and health promotion, she devotes her time to increasing awareness on common and avoidable toxins, as well as educating individuals on simple ways they can adjust their lifestyles to better serve themselves, and the planet. Natural DIY is Krissy's speciality, and she has sold over 80,000 copies of her recipe books, including her latest book, The Lifestyle Edit, the award-winning, Naturally Inspired - Simple DIY Recipes for Body Care and Cleaning, and her kids book, Make & Play - Natural DIY Recipes for Kids.