I ditched perfume and all synthetically fragranced products around 2015. When I did, I noticed what felt like an instant relief (I wish I'd done it sooner!). I'm a headache-sufferer and this one particular type of headache I used to get, that I thought was 'normal', disappeared almost immediately, and I generally felt clearer and brighter.
Unless you're in the same boat as me, having ditched the fake fragrance yourself, you may not realise how awesome you could be feeling. We often think we feel good until we feel better, and ditching perfumed products is a quick way to go about it!
Now, I get it – us humans tend to link some very strong emotions to perfume, in particular, and it's hard for many of us to go cold turkey.
Despite no longer using perfume, I will confess that I have kept two bottles (from about 22 bottles!), simply for a once-a-year whiff to evoke some powerful memories and emotions. There is a bottle of Anais Anais that takes me back to my beautiful grandmother's lap. A bottle of Marc Jacob's Daisy sees me facing my wonderful husband on our wedding day at St. Ignatius Church in Melbourne. I'll chance a little sniff of these to intensify the feel-goods, allowing me to relive those memories for a brief moment.
As it currently stands, there is no chance my children will need to whiff any perfume to remember me. I just love (and am very proud) that they associate the smell of jasmine, and ylang ylang, with me – that warm, safe, comforting space I hold in their hearts. Oh, and maybe roast potatoes – there is nothing quite like dinner smells to fill our hearts and get us reminiscing!
If you need a little background knowledge (or a refresher) on fake fragrance and everything that is wrong with it, have a read of this blog. Let's be clear here, I'm not only talking about the numerous unlisted chemicals in those pretty perfume bottles. Fragrance is that sketchy, vague umbrella term given to – what could be – hundreds of different synthetic ingredients found in so many body care and cleaning products. It is the modern day 'smoking' and is probably the first ingredient I tell people to add to their watch list when reading labels.
I'm a huge advocate for balance when tackling, and reducing, toxins but I really want to encourage you to take fragrance seriously and try your best to eliminate it from your cupboards and shelves. If the process of ditching fake fragrance feels daunting at first, know that it is actually a very simple and achievable goal.
Fancy Ditching Fragrance?
If so, you're in the right place. I have some really simple strategies and suggestions for you that will have you smelling sensational (and feeling vibrant) in no time!
There are so many DIY and non-toxic options to smell divine. Essential oils are my perfume now. I love knowing that the fragrance I am applying to my skin is safe and beneficial to my body, serving more than just one aromatic purpose. It is worth noting that essential oils are potent plant extracts and we do need to exercise caution when using them. Check out my favourite blends and brands of essential oils, as well as some safety information here.
Some Of My Favourite Fragrance Replacements
〉Perfume or cologne: add 10g carrier oil and 50 drops of essential oils to a glass bottle with a roller top, or a dropper, and shake gently to combine. This also makes a lovely gift if you add dried botanicals, herbs and spices to it – just make sure they are completely dried to avoid spoilage. (Recipe from Naturally Inspired)
〉Perfume balm: I love that DIY recipes can be so versatile, my Basic Firm Lip Balm recipe can also be used to make a perfume balm if you add in a greater concentration of essential oils – try doubling the oils to start with. Just apply to your wrists, the nape of your neck and behind your ears.
〉Another simple option is to add some essential oils and water to a spray bottle to make a natural body spritzer. I would pop around 30 drops of your favourite essential oils into a glass spray bottle, add a pinch of salt and top with purified water. Shake well before each use (read my notes here on preservatives). This is also a recipe you could use to replace any room freshener sprays.
〉Hair Perfume Mist: having gorgeous-smelling hair is a wonderful-pick-me-up and helpful for when you might need to stretch out days between washes. Simply add 50g rose water to a glass bottle with spray atomiser and add 20 drops of your favourite essential oils (I love ylang ylang, bergamot and grapefruit). Since oil and water don't mix, you'll need to shake well prior to use and spray lightly over hair as required.
〉Along with my Natural Fabric Softener, I love to add 2-3 drops of essential oils with each wash. Even if you're simply using white vinegar in the softener compartment, adding a few drops of essential oils will add that beautiful extra fresh scent to washing.
〉Dryer pads: I rarely use a clothes dryer, however, once in a while it can be quite nice to pull your clothes out of a dryer and have them smelling like a field of lavender – the real kind! Just add 3-4 drops of essential oils to either a microfibre cloth, cotton pad or sock (that doesn't give off fluff) along with the next load in your dryer. I love using lavender, eucalyptus and lemon essential oils.
〉A handy way to freshen your car is to drop your favourite essential oil onto an old sock, rag or cotton wool and pop it in the cup holder, or in the compartment on the door. It really is an effective way to scent your car for around a week at a time (oh, and peppermint and lemon is my favourite combo for this purpose).
So there you have it, plenty of simple ways to replace fake fragrance.
Not only are these suggestions effective and way better than synthetic fragrances, but they're also economical and practically waste-free.
Find even more recipes in my DIY recipe book Naturally Inspired, such as Fragrant Body Powder, Simmering Scent Pot, Fragrant Jelly Jar (another cool option to scent small rooms) as well as Spiced Floral Medley (a gorgeous modern-day potpourri).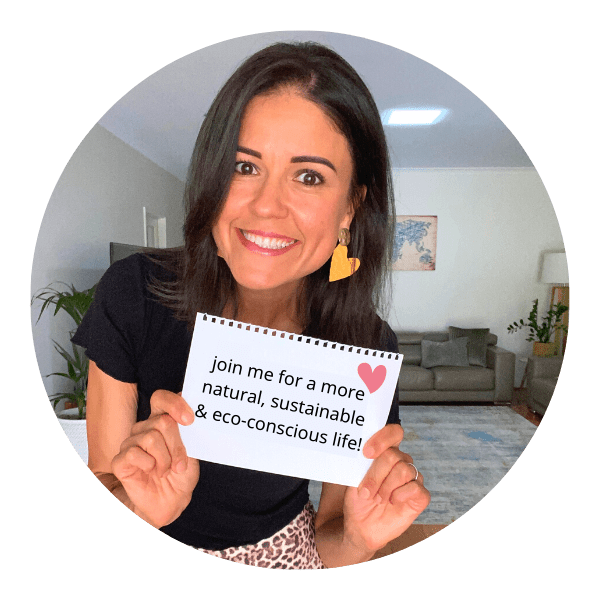 Krissy Ballinger
AUTHOR & ADVOCATE FOR NATURAL LIVING
Krissy wants to see a world where people make conscious choices that honour both humans and habitat. It is her mission to gently guide people towards this beautiful way of life. With a background in education and health promotion, she devotes her time to increasing awareness on common and avoidable toxins, as well as educating individuals on simple ways they can adjust their lifestyles to better serve themselves, and the planet. Natural DIY is Krissy's speciality, and she has sold over 80,000 copies of her recipe books, including her latest book, The Lifestyle Edit, the award-winning, Naturally Inspired - Simple DIY Recipes for Body Care and Cleaning, and her kids book, Make & Play - Natural DIY Recipes for Kids.