Commonly known as bicarb or baking soda, sodium bicarbonate is an ingredient you might be most familiar with seeing in cakes and muffins, but did you know how useful it is in both body care and cleaning recipes?
I would absolutely recommend it as a staple to have handy around the house. Why do I love it? Because of its antifungal, antiseptic and gentle exfoliating properties, plus it is excellent at eliminating odour.
Did you know bicarb comes from beneath the earth and is mined in the form of ore (from huge natural and ancient deposits, 400-500km deep)? It goes through a bit of a process before it lands on the shelves. The ore is extracted, refined, separated, 'washed', cured, packaged and shipped.
Don't confuse bicarb (sodium bicarbonate) with washing soda (sodium carbonate). I often get asked if the two are interchangeable, and I'm going to say… not really! Washing soda won't work in the Fizzy Bath Drops, but you may not notice much difference in the Dishwasher Tablets or Washing Powder, for example.
But… you can actually make your own washing soda by baking bicarb in the oven – did you know that? The way it works is by inducing a simple chemical reaction which releases excess carbon dioxide. In a nutshell, you basically bake a shallow layer of bicarb in an oven (200 degrees celsius) for approx. 60 minutes, stirring a few times throughout the baking period. You'll know it's done when the powder feels grainy, rather than smooth and soft. This is especially handy if you need to make a batch of dishwasher tablets or washing powder and you've run out of washing soda. I'm going to be honest here and say I've never needed to do it as I have bulk supplies (from Blants) so you might need to do some more research before you attempt it yourself.
Simple Ways To Use Bicarb Around The House
〉Use bicarb as a carpet or mattress deodoriser – mix ½ cup of bicarb with some essential oils (optional but pretty amazing – my favourites are lemon, tea tree and lavender) and dust over area of the carpet that needs deodorising. Leave for 1 hour or so, give it a thorough vacuum and voila! (Recipe from Naturally Inspired.)
〉A simple paste of bicarb and water is very useful for those pesky underarm stains on shirts. See my Stain Treatment Paste.
〉Forget those brightly-coloured-fake-fragranced-overly-expensive dishwashing machine 'cleaning' solutions. A handy trick for a fortnightly clean for your dishwasher – after cleaning the filter and spray arms – is to place 1 cup of white vinegar in a glass jug on the top rack and add ½ cup of bicarb to the floor of the dishwasher, then run a short but hot cycle.
〉For those trying out DIY shampoo, if you feel your hair might need an extra clean, dissolve 1 tablespoon of bicarb in a glass of warm water, apply to hair and massage as you would usually. Then rinse with a mixture of apple cider vinegar/water (50/50) if you like. Note that this is not recommended for daily use, rather as an extra clean here and there when needed.
〉My go-to for hard water stains in the toilet is to add ¾ cup citric acid and ¼ cup bicarb (and a few drops of tea tree or clove oil if you have it) to the toilet bowl, swirl around, leave for 20 minutes or so, then scrub with a toilet brush.
〉I use this same ratio of ¾ cup citric acid and ¼ cup bicarb with a splash of water to clean my shower. Check out my quick video here.
〉You can even clean your silver jewellery naturally with bicarb. Simply line a bowl with foil, add 1 tablespoon bicarb, and 3 drops lemon essential oil (optional), then cover with hot water. Leave for 5 minutes swirling the bowl occasionally. You can then use also a soft microfibre cloth or very soft toothbrush to clean and polish further, if necessary. (Recipe from Naturally Inspired.)
For even more handy recipes using bicarb, follow this link, or have a look under 'sodium bicarbonate' in the index of my book, Naturally Inspired. Among other recipes, using bicarb, you'll spot mouthwash, toothpaste, deodorant dusting powder and a gorgeous exfoliating foot scrub.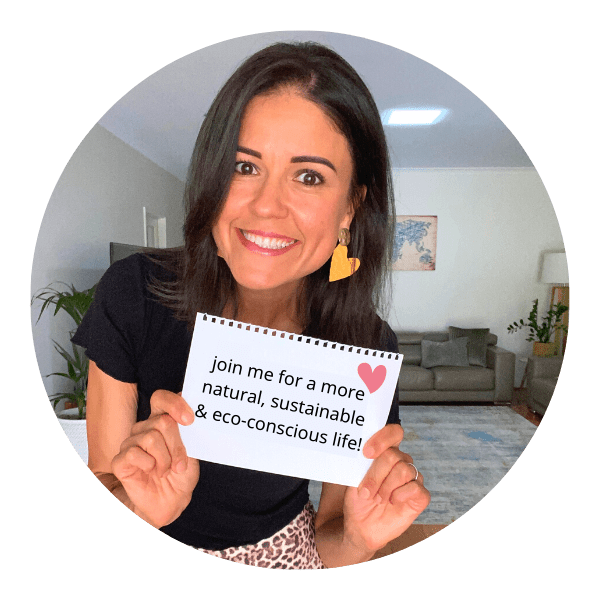 Krissy Ballinger
AUTHOR & ADVOCATE FOR NATURAL LIVING
Krissy wants to see a world where people make conscious choices that honour both humans and habitat. It is her mission to gently guide people towards this beautiful way of life. With a background in education and health promotion, she devotes her time to increasing awareness on common and avoidable toxins, as well as educating individuals on simple ways they can adjust their lifestyles to better serve themselves, and the planet. Natural DIY is Krissy's speciality, and she has sold over 80,000 copies of her recipe books, including her latest book, The Lifestyle Edit, the award-winning, Naturally Inspired - Simple DIY Recipes for Body Care and Cleaning, and her kids book, Make & Play - Natural DIY Recipes for Kids.